China detains activist Liu Ping on subversion charge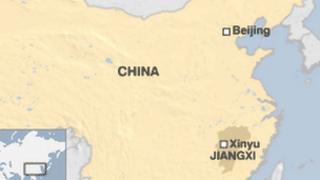 Chinese officials have reportedly charged an activist with subversion following her campaign to have leaders disclose their financial assets.
Liu Ping was detained with other activists last month after launching an anti-corruption campaign, her lawyers say.
The government has so far made no public statement about her arrest.
China's President Xi Jinping has emphasised the need to tackle corruption since taking office.
One of Ms Liu's lawyers went to Xinyu City in China's south-eastern Jiangxi province to see her.
But police denied the request, citing national security reasons, Ms Liu's lawyer, Zheng Jianwei, told the BBC.
He also told Reuters news agency that police detained Ms Liu for "inciting subversion of state power".
Ms Liu was among a number of people detained in Xinyu on 27 April, a fellow activist was quoted by the South China Morning Post newspaper as saying.
They were getting ready to visit the grave of a student killed during the Cultural Revolution in the 1960s when they were arrested, the activist added.