China poisoning case sparks White House petitions flurry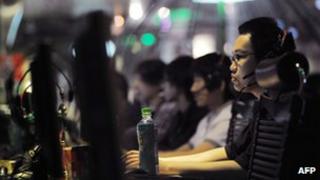 A 19-year-old poisoning case has sparked a rush of interest in the US White House petitions site from Chinese internet users.
Over 130,000 users have signed a petition demanding the US investigate a woman they call a suspect in the 1994 poisoning incident.
A number of other petitions have since been posted by Chinese users, on topics ranging from pollution to tofu.
The online platform is designed to help Americans to petition their government.
As of 0900 GMT on Wednesday, five of the six latest petitions on the White House petitions website related to China.
The petition that led to the interest concerned the a case of a Chinese student, Zhu Ling, who was poisoned by thallium in 1994.
The petition demanded the deportation to China of a woman - described in the petition as having powerful political connections - who was investigated but not charged in connection with the case.
Since it was posted on Friday, it has gained over 135,000 signatures, surpassing the 100,000 signature threshold needed for a US government response.
The US government has not yet made any comment about the petition.
'Wishing well'
Another petition asking the US government to "remonstrate with [the] Chinese government" over a proposed factory producing paraxylene (PX) in Kunming had over 9,500 signatories.
The petitioners said they feared the plant would "jeopardise human health" because reliable "scientific assessments" had not been made, and PX was potentially carcinogenic.
The petition follows protests against the plant in Kunming, that bloggers said attracted up to 2,000 people.
The interest in online petitions comes at a time when China's internet users are increasingly turning to social media to right perceived wrongs, often using microblogs to expose what they see as corruption in officials and their family members.
One petition was more tongue-in-cheek, asking the US government to set the official taste of tofu as sweet - an apparent reference to a debate in China over which flavour of tofu is best, while another asked the US to send troops to "liberate Chinese people".
The petitions have become a hot topic for discussion on weibo, China's version of Twitter, with several users describing the website as a "wishing well".
There were reports that weibo users had set up a new account for US President Barack Obama, referring to him as the director of the Central Petitions Office.
Many users expressed amusement at the petitions, saying they would take part in the petition to support their side in the "tofu debate".
"The White House petition site has been played to death by Chinese netizens," weibo user Sleeping Facedown noted.
However, user Buqihan said that the petition site's popularity was significant.
"An opaque judicial system and a lack of credibility is a terrible thing. No wonder everyone is petitioning the White House. The situation has already gone beyond the case [of Zhu Ling], this is an outlet for the public's long-term dissatisfaction at the government's internal policies," Buqihan said.
There was also criticism of some of the frivolous petitions. "The original petition on the #WhiteHousePetitionSite was for Zhu Ling's case to be reopened, yet now it's gone crazy!" Cat from Wang Planet complained.
The petitions have caught the attention of Chinese media, with state-run China Daily featuring the petition on Zhu Ling's case on its front page.
Activists were relying on increasingly creative means to have their voices heard, China's state-run Global Times reported.
However Zhang Yiwu, a professor of Chinese literature at Peking University, said "lodging complaints to foreign entities is off limits", Global Times reported.
In China, millions of people petition government offices every year. However, they are often treated as a nuisance and many are rounded up by police to stop them complaining.