China arrests hundreds over fake or tainted meat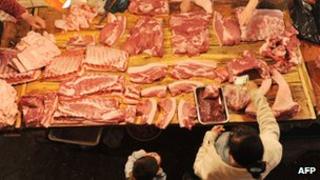 More than 900 people have been arrested in China for selling fake or tainted meat in the last three months, state media say.
Officials say they uncovered almost 400 such cases and seized more than 20,000 tonnes of fake meat.
In one case, the suspects made fake mutton from foxes, mink and rats after adding chemicals, state media said.
The report is the latest in a series of cases highlighting food safety issues in China.
In the latest case, examples of wrongdoing included suspects using a hydrogen peroxide solution to process chicken claws or injecting water into meat to increase its weight.
State news agency Xinhua reported the arrests as a part of a national crackdown that will now focus on dairy products.
It also quoted an official as saying that China had "deep-seated food safety problems" that needed to be resolved.
Food safety remains an issue of huge concern for the Chinese public, reports the BBC's Martin Patience in Beijing.
Last year there were reports that some suppliers to pharmaceutical firms used so-called gutter oil - reprocessed kitchen waste dredged from restaurant drains - to make antibiotics.
Previous cases also involved the use of gutter oil as cooking oil or in food production.
Public concerns also remains over milk products, after a high-profile scandal involving the use of melamine in baby milk formula.