Two Tibetan monks in China die after self-immolations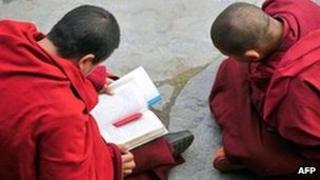 Two Tibetan monks have died after setting themselves alight in southern China's Sichuan province, reports say.
The monks, aged 20 and 23, set themselves on fire at the Kirti monastery in Aba county, said Radio Free Asia and Free Tibet.
The monastery has been a focal point of protests in recent months.
More than 100 Tibetans, mostly young monks, have set themselves on fire since 2011 - many fatally - in apparent protest against Chinese rule.
The monks, who reports identify as Lobsang Dawa, 20, and Konchog Woeser, 23, set themselves on fire on Wednesday, US-based Radio Free Asia and London-based Free Tibet said.
The monks at the monastery held prayers for the two who died and their bodies were to be cremated on Thursday, Radio Free Asia added.
The majority of the self-immolations since 2011 have taken place in ethnic Tibetan areas outside Tibet, many in Aba county.
Most involved Buddhist monks or nuns calling, Tibetan activist groups say, for greater religious freedom and the return of their exiled spiritual leader, the Dalai Lama.
The Chinese government accuses the Dalai Lama of orchestrating the protests, a charge he strongly rejects.
Foreign media are banned from the region, making verifying the self-immolation cases difficult. Chinese state media have confirmed some but not all.
In January, China found two men guilty of inciting immolations in Sichuan, believed to be the first cases since a legal ruling stipulating that anyone aiding immolations would be charged with murder.
Tibetan activists said the men, one of whom received a commuted death sentence and the other 10 years in jail, were forced to confess to the charges.