Nobel laureate Liu Xiaobo's wife attends brother's trial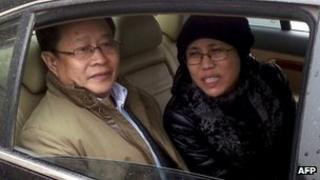 The wife of jailed Chinese Nobel Peace laureate Liu Xiaobo has made a rare appearance outside house arrest as her brother went on trial for fraud in Beijing.
Liu Xia has been under house arrest since her husband was awarded the Nobel Peace Prize in November 2010.
Her brother, Liu Hui, was detained in January over a business dispute.
His lawyer told the BBC that both believed the case was politically motivated and did not stand up.
Liu Xiaobo, who won the Nobel prize despite China's fierce opposition, was jailed in 2009 for helping draft a manifesto - Charter 08 - calling for political change.
He is currently serving 11 years in jail for inciting the subversion of state power.
Liu Xia, also a known activist, lives in her Beijing apartment with no internet or phone access and limited weekly visits with family. She has described her house arrest as a painful experience.
"I'm not free," she shouted from a car window to reporters and diplomats after leaving the court where her brother was being tried.
"When they tell you I'm free, tell them I'm not," she said.
Liu Hui, who is accused of a 3m yuan ($500,000, £318,000) real estate swindle, could be jailed for up to 10 years if found guilty.
"They haven't announced the result of the case yet," his lawyer, Shang Baojun, told the BBC in an interview. "We'll get it in about a week. It will either be announced in court or sent to us in a verdict paper."
When asked if Liu Hui's case was connected to Liu Xiaobo, the lawyer said: "I can't comment on it because it's not a legal issue, but Liu Hui's family members all think that way."
He added that "both Liu Xia and Liu Hui insisted that the fraud allegation does not stand".
Maya Wang, a Hong Kong-based researcher from Human Rights Watch, said Liu Hui's trial "clearly fits the pattern of harassment of activists' families", citing the case of blind activist Chen Guangcheng.
Such behaviour stretched back years and had "become part of the Communist Party practice in China", she said, the aim being "to intimidate family members and to isolate activists from their own community of support".
Of Liu Xia's presence in court, Ms Wang said it drew attention to her circumstances. "Liu Xia has broken no law at all and her house arrest has absolutely no legal basis," she said.