China pig and dog deaths prompt probe into factories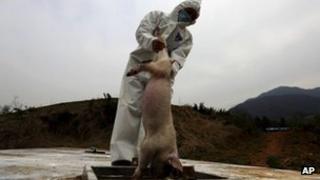 A Chinese village has closed nearby chemical plants after hundreds of pigs and dogs died mysteriously, sparking fears among local residents.
A total of 410 pigs and 122 dogs were found dead in Dongtun village in Yanshi city, Henan province, officials said.
The deaths were not caused by an epidemic or the new H7N9 bird flu strain, and nearby chemical factories were being investigated, they added.
More than 16,000 dead pigs were pulled from Shanghai's main river last month.
"Dead animals were found in nearly half of the village. The animals just suddenly died without any warning," a local resident, who only identified herself as Ms Kou, told China's Global Times.
Police are investigating the incident, which many local residents blame on fumes from a nearby chemical plant, Chinese media reported.
Local villagers said that there had been an "extremely strong odour" on Monday morning, state-run news agency Xinhua said.
Public health concerns have been high in China in recent months.
Last month, more than 16,000 dead pigs were pulled from Huangpu river, which supplies Shanghai with drinking water, and around 1,000 dead ducks were found in a river in Sichuan.
A new strain of bird flu has also raised concerns. The H7N9 virus has infected a total of 83 people, killing 17, state media said on Thursday.