China 'reveals army structure' in defence white paper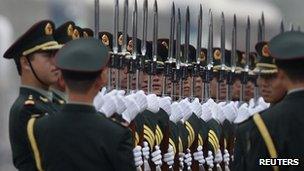 China has revealed the structure of its military units, in what state-run media describe as a first.
The army has a total of 850,000 soldiers, while the navy and air force have a strength of 235,000 and 398,000, China said in its defence white paper.
The paper also criticised the US's expanded military presence in the Asia Pacific, saying it had exacerbated regional tensions.
China's defence budget rose by 11.2% in 2012, exceeding $100bn (£65bn).
The defence white paper, which state media describe as China's 8th since 1998, emphasised China's "unshakable national commitment... to take the road of peaceful development".
However, it highlighted "multiple and complicated security threats" facing China, and China's need to protect its "national unification, territorial integrity and development interests".
The white paper reveals details of China's military structure. According to state-run news agency Xinhua, this is the first time such information has been disclosed publicly.
Correspondents say this appears to be part of an effort, on the part of the Chinese military, to become more transparent.
The territorial army has 18 combined corps in seven military area commands: Beijing, Nanjing, Chengdu, Guangzhou, Shenyang, Lanzhou, and Jinan.
The air force has 398,000 personnel and an air command in the same seven military areas, while the navy commands three fleets: the Beihai Fleet, the Donghai Fleet and the Nanhai Fleet, the paper said.
The paper also describes the role of China's second artillery force, which contains China's nuclear and conventional missile forces.
The force is crucial to China's "strategic deterrence", and is "primarily responsible for deterring other countries from using nuclear weapons against China, and carrying out nuclear counterattacks and precision strikes with conventional missiles," the paper said.
The paper also criticised the US's increased presence in the region.
"The US is adjusting its Asia-Pacific security strategy," it said, adding later that "some country has strengthened its Asia-Pacific military alliances... and frequently makes the situation there tenser."
The US has increased its military presence in Asia in recent years, as part of President Barack Obama's "pivot to Asia".
The white paper also addresses "issues concerning China's territorial sovereignty and maritime rights", criticising Japan for "making trouble over the issue of the Diaoyu Islands".
The islands, known as Senkaku in Japan and Diaoyu in China, are controlled by Japan but claimed by both China and Taiwan.
Separately, the paper describes "'Taiwan independence' separatist forces" as the biggest threat to cross-Straits relations.
Taiwan is an island which has for all practical purposes been independent since 1950. However, China views the island as a rebel region that must be reunited with the mainland - by force if necessary.
Related Internet Links
The BBC is not responsible for the content of external sites.