China H7N9 strain bird flu toll 'reaches nine'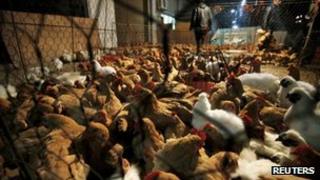 Two more patients infected with the H7N9 strain of bird flu died on Tuesday, bringing the total to nine, Chinese state media has reported.
The two patients were from China's eastern Anhui and Jiangsu provinces, state media said.
The World Health Organisation (WHO) has said that there is no evidence that the H7N9 virus is being transmitted between people - most cases come from poultry.
A total of 28 people in China have been infected by the new bird flu virus.
China has banned live poultry trading in Shanghai and Nanjing.
On Monday, the WHO said it was in discussions with China about sending a team of international experts to help investigate the new bird flu strain.
The H7N9 bird flu virus is distinct from the H5N1 virus that has caused more than 360 deaths worldwide since it was found in humans in 2003.
Online rumours
Meanwhile, China's state-run news agency Xinhua said that 10 people from five different provinces had been detained over the spread of false information about H7N9.
Some of them had written microblog posts saying that the virus had been discovered in their province, and some messages had been reposted several times, Xinhua said.
Over the weekend, there were concerns about human-to-human transmissions after the sons of an elderly man who died from bird flu also contracted a respiratory illness. One of the sons died.
However, Chinese officials and the WHO confirmed on Monday that the son's death was not caused by the bird flu virus.
"Although we do not know the source of infection, at this time there is no evidence of sustained human-to-human transmission," Michael O'Leary, the WHO's representative in China, told reporters on Monday.
"We are very satisfied and pleased with the level of information shared [by the Chinese authorities]," Mr O'Leary added.
In 2003, officials were accused of covering up the outbreak of Severe Acute Respiratory Syndrome (Sars), a disease which infected 8,096 worldwide, and killed 744.