China media: North Korea speculation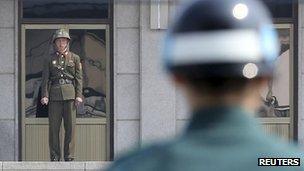 Speculation over Beijing's stance on North Korea, new bird flu cases, more discoveries of poisoned livestock and a dockers' strike are topping headlines in China's media today.
Chinese President Xi Jinping's call for regional stability and warning to unnamed troublemakers in Asia has topped headlines on the front pages of People's Daily and many other mainland Chinese newspapers and major news portals.
"No one should be allowed to throw a region, or even the whole world, into chaos for selfish gains," Mr Xi said on Sunday in his speech at the Boao Forum for Asia, a Chinese business conference in southern Hainan.
Quoting Mr Xi's speech, The Beijing News calls on North Korea to return to the negotiating table, but lays "historical" blame on the US for exacerbating Pyongyang's sense of insecurity with its military deployments in the South since the end of the Korean War.
Prof Zhang Liangui, an expert on the Koreas at the Communist Party's Central Party School, tells Global Times that North Korea may not be bluffing in warning foreign embassies to evacuate.
"North Korea has grown more confident after its third nuclear test because its government believes that they are more than capable of fighting a war with South Korea and the US," Prof Zhang says.
"What China needs to do now, as well as call for peace-keeping, is to evacuate its Chinese firms," he adds.
In interviews with China Daily and China National Radio, other Chinese experts strike a more optimistic tone and believe that the US has already softened its stance and is still keeping channels of communication open with North Korea.
In contrast, Jia Xudong at the China Institute of International Studies, a foreign ministry-affiliated think-tank, tells Hong Kong's Ming Pao that Mr Xi's speech is directed more generally at Japan, the Philippines and Vietnam for "provoking" territorial disputes with China, as well as the US' "interference in the internal affairs of other countries".
Also on the sidelines of the Boao Forum, officials from the People's Bank of China and the Chinese Academy of Social Sciences, a top government think-tank, tip off South China Morning Post that China may soon allow its currency to trade directly with the Australian dollar, rather than through the US dollar.
Turning to China's bird flu outbreak, the government says there is still no evidence of human-to-human transmission of the H7N9 virus but does not rule out a further spread of outbreaks.
Three more cases were recorded on Sunday - two in Shanghai and one in Anhui - raising the tally to 21, with six dead, The Beijing News reports.
In Hong Kong, Oriental Daily News however expresses further suspicion that the mainland authorities may have delayed and covered up the outbreak.
It blasts the Hong Kong government for only introducing "largely inaccurate" temperature-checking machines and health declaration forms at border points and not upgrading precautionary measures.
In other domestic news, China Daily says authorities in Baishan in northeast Jilin "lied" in under-reporting the number of deaths in the first of two explosions at a coal mine on 29 March in order to evade harsher penalties.
So far, 42 deaths have been reported in the two blasts and 11 people are still missing from the second blast on 2 April.
After thousands of diseased dead pigs were found recently in waterways near Shanghai, nearly 100 dead pigs have also been found floating in the Hejiabin River of neighbouring Jiangsu province, Hong Kong's Oriental Daily News reports.
A 1km (0.62 miles) stretch of abandoned rotting pig carcasses are also causing a stink on the roadside in Jiangsu's Xuzhou, the newspaper adds.
Meanwhile, Shanghai residents, who are already jittery about water contamination from the dead pigs, are concerned over hundreds of dead carp that have been fished out of a man-made river in the city's Songjiang district since last week, China Daily says.
Officials say the city's water is still safe to drink and that the fish were killed from illegal fishing by electrocution and poisoning.
The environmental protection chief of Cangxian county in northern Hebei has quit after initially dismissing villagers' complaints over the deaths of around 700 chickens from drinking foul-smelling polluted underground "red water" in the region since last November, notes China Daily.
Over in Hong Kong, thousands of dockers and their families and activists held a protest march on Sunday in an ongoing strike over wages at Kwai Tsing, one of the world's leading container ports, Apple Daily says.