China media: Bird flu outbreak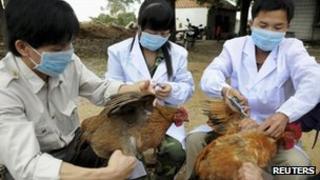 Media in China are focusing on growing public concern over the new bird flu virus, North Korea, tributes to reformist leader Zhao Ziyang and a British Virgin Islands tax-haven leak.
The new bird flu virus outbreak continues to dominate media headlines, as China Central Television reports 14 diagnosed cases and five deaths in the Yangtze River Delta region.
Amid growing public concern over the outbreak, health authorities have promised transparency and stressed that there is no evidence of human-to-human transmission of the new strain of deadly bird flu, China Daily reports.
The Beijing News reminds the public not to panic or slacken vigilance against the virus, but also urges authorities to be "more timely and transparent" in releasing information to allay public fears.
However, Xinhua news agency notes that the Shanghai government failed to notify the public about two H7N9 deaths until nearly half a month after the deaths occurred and has been silent on how thousands of dead pigs ended up in waterways near the city.
Xinhua points out that the World Health Organization has not ruled out pigs as the carrier of the H7N9 virus despite official assurances that there is no link between the pigs and the bird flu outbreak.
"Although the government learned a great deal from the Sars outbreak, it still demonstrates signs of immaturity," the agency says.
In Hong Kong, Oriental Daily News calls the mainland and Hong Kong authorities "passive" and says they have failed to take strong preventive measures.
Hong Kong's Apple Daily says that mainland authorities will "inevitably repeat the mistakes" of the 2003 Sars outbreak by trying to cover up and delay reporting new cases.
Taipei's Liberty Times, another outspoken critic of the mainland's Communist Party, is also sceptical and urges Taiwan authorities to step up precautionary measures.
It says the mainland's disease prevention shows "no sign of improvement" and suspects that the official data released so far may only be the "tip of the iceberg" of a mass epidemic.
'Diversionary tactics'
There is little mainland press comment on North Korea, but a commentary by Ta Kung Pao, a Beijing-backed Hong Kong newspaper, says the US "cannot fathom" the motives and bottom line of North Korean leader Kim Jong-un.
It says Mr Kim is merely engaging in "diversionary tactics" to attract global attention and to attain Pyongyang's ultimate aim of "bargaining with the US at the negotiating table".
During the ongoing Tomb-Sweeping Festival, civil rights activists paid respects at the former Beijing residence of late reformist communist party leader Zhao Ziyang, who was ousted during the 1989 Tiananmen crackdown, Oriental Daily News reports.
Another 300 or so people were intercepted by police trying to reach the residence.
Amid a tight police security cordon, relatives were allowed to pay respects to "red guards" as well as persecuted victims killed during the violence of the Cultural Revolution in the mid-1960s at a cemetery in Chongqing, the newspaper adds.
Police stopped other people from trying to enter the cemetery that has been off-limits to the general public for more than 30 years.
Elsewhere, over 1,000 villagers in Leping near Foshan City in Guangdong clashed with police during protests to call on authorities to investigate alleged misappropriated funds from a land takeover, Oriental Daily News reports.
Chen Guangcheng, a New York-based blind rights activist who escaped house arrest in Shandong and sought refuge in the US embassy in Beijing last year, tells Radio Television Hong Kong that it is "absurd and unrealistic" to expect the ruling communist party in China to tackle corruption within its ranks, Apple Daily reports.
The programme will be made available on YouTube on Friday.
Mr Chen expresses hope that new president, Xi Jinping, will not stop China's transition towards "justice, diversity and universal values" that is already underway.
Finally, the rich in mainland China, Hong Kong and Taiwan are bracing themselves for possible exposure in a British Virgin Islands tax-haven probe that is being described as the biggest information leak in recent history, South China Morning Post reports.