China media: Concerns over bird flu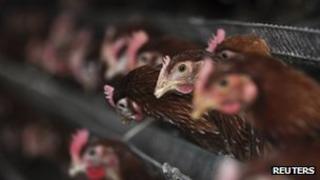 Media in China are calling on the authorities to release timely information on a new bird flu outbreak that has already claimed two lives.
China Central Television and other major media say four new people living in different cities in Jiangsu province are in critical condition with H7N9, a strain of bird flu that was previously unknown in humans.
However Hong Kong's Sing Tao Daily says tracing the virus is proving difficult. It notes that two sons of one of the men who died in Shanghai contracted pneumonia and one died, even though H7N9 was not found in either of them.
Local authorities also say they have found no links between cases of H7N9 and over 16,000 dead pigs found in rivers near Shanghai, China Daily reports.
The Beijing News urges the public to stay calm, but says the authorities have failed to step up checks on livestock and poultry.
Global Times notes that the government's slow information disclosure has caused "public crises", but says the public should encourage and applaud the government's efforts rather than issuing louder complaints over accident and scandal cover-ups.
The bird flu outbreak is also on the front pages of many Hong Kong newspapers and it coincides with the 10th anniversary of the Sars (Severe Acute Respiratory Syndrome) outbreak that killed at least 349 people on the mainland, triggering a global epidemic. Nearly 300 people died in Hong Kong.
South China Morning Post is worried over the apparent mutation of the virus and notes that it took a month and three weeks before the authorities made public the deaths of the two men with H7N9.
'Non-intervention policy'
In international news, a bilingual Global Times editorial says North Korea will not attack South Korea or the US, but stresses that neither China nor the international community can stop North Korea's nuclear ambitions.
It urges China to opt for a "non-intervention policy" of preventing a major war while making contingency plans to avoid any negative impact of a possible war.
"It will be more realistic to freeze its [Pyongyang's] current nuclear conditions and prevent it from conducting new nuclear tests," the editorial stresses.
Xinhua news agency, China Daily, Global Times and other state mouthpieces see Apple boss Tim Cook's apology for any misunderstandings that had led to the perception that Apple's attitude was arrogant in its dealings with Chinese consumers as better late than never and call for an end to "double standards" and privileges for foreign companies in China.
"Even though Cook apologised, the attack on Apple was sustained and concerted to such a degree that is raises doubts about the way that China does business," South China Morning Post's Kevin Rafferty comments.
He adds that many Chinese internet users are highly critical of the state media's campaign against Apple in recent weeks.
Hong Kong's Apple Daily accuses the Communist Party of unleashing a "red terror" on the mainland media and internet after the propaganda department reportedly launched a "new three-anti's personnel" campaign targeting "anti-party, anti-state, anti-nation" media workers.
In Hong Kong, Ming Pao and other local press are speculating on an unusual article in the Communist Party mouthpiece People's Daily Overseas Edition on Tuesday that cites the names and views of pan-democrats in an ongoing row over political reform in Hong Kong.
Mainland media often label pan-democrats as the "opposition camp".
The article cites the political views of Emily Lau Wai-hing, chairwoman of the Democratic Party, and Dr Benny Tai Yiu-ting, who is behind Occupy Central, a civic movement to campaign for universal suffrage in the city.
The article was soon reposted by a number of mainland news sites, but the original was made inaccessible on the People's Daily website.
Despite the rare show of openness, political commentator Willy Wo-lap Lam tells Apple Daily that the People's Daily article also makes it clear that the pan-democrats have hit Beijing's "bottom line". He foresees a possible mainland "media war" to incriminate the pan-democrats as opponents of Beijing.
BBC Monitoring reports and analyses news from TV, radio, web and print media around the world. For more reports from BBC Monitoring, click here. You can follow BBC Monitoring on Twitter and Facebook.