Shanghai knife attacker kills two, injures children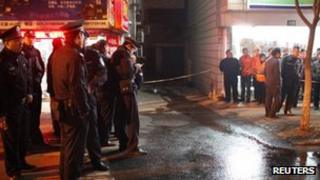 A man has killed two women and slashed 11 people, including six children, in a knife attack in Shanghai.
The man killed his sister and her mother-in-law over a money dispute, state media said, and then attacked parents and children outside a school.
People tackled him to the ground and police then arrested him, reports said.
Those who were injured were in stable condition and an investigation was ongoing, police said.
The man is accused of killing the two women at their apartment, state media said.
He then went to a primary school in Fengxian district and began slashing people at random.
"When I arrived at the school, children were hiding everywhere. They were terrified," a father of one of the students told China Daily newspaper.
China has seen a number of attacks at primary schools and kindergartens in recent years.
On 14 December, 22 young children were wounded by a man wielding a knife at a primary school in Henan province.
In 2010, a series of knife attacks in schools were also reported.