China media: Two Koreas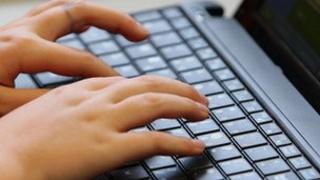 The two Koreas are in the spotlight again as Beijing vows to help Seoul resolve tensions with Pyongyang.
The top news on the front pages of People's Daily and other national newspapers is President Xi Jinping's pledge of China's support for "reconciliation and co-operation" between the two Koreas in his phone conversation yesterday with South Korean President Park Geun-hye.
South Korea's Yonhap says President Park had asked Mr Xi to help persuade North Korea to return to dialogue during the 20-minute phone call.
Chinese experts believe that Beijing is voicing support for direct dialogue between Pyongyang and Seoul, China Daily reports.
News of the suspected cyber-attack that targeted South Korean banks and broadcasters yesterday has also featured prominently on state television and news portals.
However, there has been little comment on the South Korean Communications Committee tracing the source of the suspected attacks to an IP address in China, as reported by Hong Kong's Phoenix Satellite TV.
The front pages of China Daily, People's Daily and other major newspapers also feature Chinese Premier Li Keqiang telling US Treasury Secretary Jacob Lew, who is in Beijing as a special envoy of the US president, that China and the US should enhance trust and expand common interests in spite of "wrangling" over trade and market access.
Taipei's Chinese Television Service notes that the two also had a "very frank and direct" exchange on other controversial issues such as mutual cyber-attack allegations and differences on whether China's currency is undervalued.
Taiwan press also flag up their security chief's warning of mainland cyber-attacks.
However, mainland media have not yet commented on warnings by Taiwan National Security Bureau (NSB) Director Tsai Der-sheng that cyber-attacks from mainland China are "very serious" and are now targeting high-tech and financial data as well as military secrets, as Taipei Times reports.
"Before, China's hacking focused on stealing information, but now we have discovered that the attacks are aiming to damage national infrastructure. Chinese cyber-attacks could seriously undermine our infrastructure and transportation systems, as well as financial operations," Mr Tsai told lawmakers yesterday.
Taipei's Liberty Times urges the Taiwan government to come up with "concrete actions" to reduce Taiwan's vulnerability to alleged mainland hacker attacks, and even warns against growing mainland investment on the island.
Vatican visit
In other Taiwan-related news, Taipei's Want Daily, Central Daily News and China Times all praise Taiwan President Ma Ying-jeou's visit to the Vatican earlier this week as a success.
However, China Times warns that Beijing will "not be happy to see" Mr Ma's attendance of Pope Francis' inaugural Mass as a head of state on Tuesday, despite its "fairly low-key" reaction so far.
Want Daily points out that Beijing's call last Sunday for the Vatican to cut diplomatic ties with Taiwan may have been a "standard response", but Mr Ma's' "flexible diplomacy" is starting to show its limitations and a new "second-phase strategy" is urgently needed.
Turning to the Middle East, China Central Television and other state media continue to paint a bleak picture of Iraq following the 10th anniversary of the 2003 Iraq war.
CCTV's Baghdad correspondent Sun Hu says ordinary Iraqis are feeling "rage, despair and helplessness" and see little to celebrate about the war's anniversary as the capital was rocked again by terrorist bombings.
Global Times says China has had the foresight to resist "Western democracy", which it says has destabilised Iraq, Afghanistan and Libya.
It criticises the US for not apologising for the "huge mistake" of the Iraq war and says its approach towards Syria and Iran shows that its mentality of "worshipping armed force" has not changed.
Envoy Beckham
India's democracy also gets blasted by Ding Gang, an editor at Communist Party mouthpiece People's Daily, for its "weakness and incompetence" exposed by the gang rape of a Swiss tourist in the country last weekend.
"The Indian rape epidemic has not only shocked the world, but shamed the country which prides itself on being the largest democracy in the world. The frequent rape cases cast a shadow on the quality of Indian democracy," Mr Ding says.
Finally, the debut appearance of David Beckham, or "Little Becks", as an envoy for Chinese football has been a major hit on sports websites.
A divisive debate among internet users has erupted after CCTV host Zhang Bin told a press briefing that China can "learn from how the BBC solves its own scandals" in response to questions by the BBC's Beijing correspondent on how Mr Beckham will tackle recent match-fixing scandals in China's domestic league.
Besides criticism or praise for Mr Zhang, a number of internet users also lament how corruption has badly tarnished the image of Chinese football.
BBC Monitoring reports and analyses news from TV, radio, web and print media around the world. For more reports from BBC Monitoring, click here. You can follow BBC Monitoring on Twitter and Facebook.