Who makes China's foreign policy?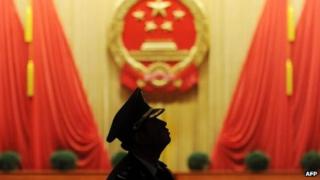 Capping 38 years of diplomatic service, Yang Jiechi has finally ascended to China's top foreign policy position. After serving as foreign minister for six challenging years, Mr Yang has become a State Councillor in charge of managing foreign affairs.
Mr Yang's successor, Wang Yi, moved into his new role as foreign minister after scaling China's diplomatic ranks for three decades, working both as ambassador to Japan and the United States.
Most recently, Mr Wang was in charge of Beijing's complex relationship with Taiwan.
Those outside China will look to Yang Jiechi and Wang Yi to understand China's stance on a host of international issues. However, they might not receive clear answers.
Inside the country, China's foreign ministry is just one of the groups influencing its international agenda, including its ever-expanding military and large state-owned companies that have significant investments overseas.
Perhaps most importantly, those at the upper echelons of the Communist Party can overrule the desires of the foreign ministry.
Like his predecessor, Dai Bingguo, Yang Jiechi holds a relatively low rank in the Communist Party, despite his spot near the top of the state hierarchy.
"He is not a member of the Politburo - so he does not have high political status in the Communist Party - and it is unclear if this will impact his effectiveness," explains David Shambaugh, professor of political science and international affairs at George Washington University in Washington, D.C.
Yang Jiechi and Wang Yi must push to be heard when attending meetings of the powerful Central Foreign Affairs Leading Group, the elite committee in charge of China's international agenda.
Headed by Xi Jinping, the group includes political heavyweights such as Premier Li Keqiang and the Minister of Defence, People's Liberation Army General Chang Wanquan.
"The rank of the Chinese foreign ministry cannot compete with that of the United States [State Department]. Final decisions will be made by Chairman Xi Jinping," explains Zhou Yongsheng, professor of Japan Studies at the China University of Foreign Affairs in Beijing.
Weak or arrogant?
An astute politician, Mr Xi also heeds his own personal agenda when dealing with foreign policy.
Since taking over as the head of the Central Military Commission, some argue that Mr Xi is strategically boosting tensions in the South and East China Seas in order to rally the military around him while he solidifies his grip on power.
In recent months, Mr Xi has made several comments urging the People's Liberation Army to prepare to "win wars".
China's new leader is also eager to boost his base of popular support. Increasingly, Chinese citizens are eager to weigh in with their own ideas, particularly on the need for China to stand up to Washington and Tokyo.
"Chinese foreign policy has been criticised domestically because it looks like China has been very weak in dealing with hot issues," explains Su Hao, professor of foreign affairs studies at the China University of Foreign Affairs.
"But internationally, China has been accused of being arrogant. Terms like 'assertive' and 'aggressive' are used to describe China's foreign policy."
Perhaps that is the toughest task faced by Yang Jiechi and Wang Yi: they must present China's foreign policy on the international stage, even if, at times, they played a limited role in making those decisions.