China criticises US missile defence plans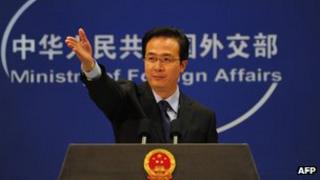 China has criticised a US plan to strengthen its missile defences in response to North Korea's growing military capabilities.
The move would "intensify antagonism", a Foreign Ministry spokesman said, urging the US to "act prudently".
The US announced plans to deploy 14 additional missile interceptors in Alaska, and an early-warning radar in Japan, on Friday.
Russia has also expressed opposition to the plan.
"The anti-missile issue has a direct bearing on global and regional balance and stability," Chinese Foreign Ministry spokesman Hong Lei said at a daily news briefing.
"Actions such as strengthening anti-missile [defences] will intensify antagonism and will not be beneficial to finding a solution for the problem," Mr Hong said.
Tensions in the region are high following North Korea's nuclear test on 12 February, the third by the regime. That test followed the launch in December of a long-range rocket, condemned by the UN as a banned test of missile technology.
The US and other regional allies fear North Korea is working to develop a nuclear warhead small enough to arm a missile, though it is not believed to have achieved this yet.
China, North Korea's biggest trading partner, is seen as the nation with closest ties to, and the most influence on, the communist state. But it backed UN sanctions against Pyongyang after the nuclear test, in a move seen by some as a shift.
Beijing has in the past voiced opposition to the development of US missile defence capabilities in Asia, viewing it as a containment move.
US Defence Secretary Chuck Hagel said in a speech on Friday that the US would add 14 missile interceptors to the 30 already in Alaska, and deploy an additional radar in Japan that could track any missile launched from North Korea.
This would help counter the growing threat from North Korea, which had advanced its capabilities and "engaged in a series of irresponsible and reckless provocations", he said.
Plans to extend the missile shield in Europe would be dropped to fund the new missile defences around Asia, but the US remained committed to Nato missile defence, he added.
Russia also expressed opposition to the plan, and said that it would seek agreement from the US that its missile defence system was not aimed at Russia's nuclear forces.