China colliery blast kills 21 miners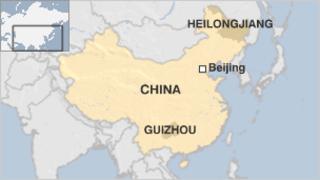 A blast at a colliery in China has killed 21 miners and left four more missing, state media say.
The accident happened at a pit in Guizhou province on Tuesday night, Xinhua news agency said.
Fifty-eight workers escaped what it called an "outburst of coal and gas". Rescue teams were looking for the remaining four.
A search was also ongoing for 18 miners missing after a mud flow at a site in Heilongjiang on Monday, Xinhua said.
The group were working about 500 metres underground when mud and rocks poured into the shaft, state media said.
China's mines are among the deadliest in the world, with numerous accidents each year.
The central government has worked to improve safety standards, but these laws are often ignored at local level in a country heavily reliant on coal.