Demise of China's unloved railways ministry
By Celia Hatton
BBC News, Beijing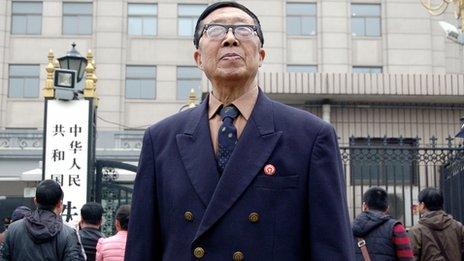 After hearing that China's Ministry of Railways would be disbanded, former employee Huang Baojun did not waste any time.
Mr Huang put on his old uniform, which had not been worn since he retired in 1998. He then drove for two hours to have his photo taken outside the Ministry of Railways headquarters in central Beijing.
Standing in the rain outside the building, Mr Huang's tie was dusty and the colour of his jacket was faded, but he did not seem to care.
"I wore this when I first started working in the 1960s," he said with a smile, fingering the Ministry of Railways pin attached to his lapel. "I feel like I'm back in the days when I first started working."
On Monday, China's leaders announced the beleaguered Ministry of Railways would be spilt into two. The Ministry of Transportation will oversee the railways' administrative functions, while a private company will handle its commercial operations.
Long derided as one of the most corrupt and inefficient wings of the Chinese government, news of the ministry's demise has been celebrated across China.
In February 2011, railway chief Liu Zhijun was arrested for corruption and expelled from the Communist Party. He is accused of accepting more than $160m (£107.9m) in bribes while also maintaining a network of 18 mistresses.
Six months later, a bullet train collision near Wenzhou in China's eastern Zhejiang province killed 40 people and injured 200 more. An investigative report later blamed design flaws and lax safety standards for the crash.
Even before 2011, the rail network was the focus of hatred by Chinese people, particularly the country's 260 million migrant workers, who have been forced to rely on the unreliable train system for decades.
Miserable passengers often complain about the railway's poor service and filthy, overcrowded carriages.
Even Mr Huang, the former railways employee, admits that change is a good idea.
"This ministry is like an independent kingdom that has everything, including its own police and justice system," he said. "None of other ministries are like that. Here, politics and business are mixed together."
Proof of the ministry's bloated size: Mr Huang's 30-year career had nothing to do with trains. He worked as a Chinese teacher at a special high school that was created for the children of ministry workers.
Now that the Ministry of Railways will close, the Chinese public has reacted with a mixture of glee and apprehension. Many, like Mr Huang, have made a pilgrimage to the ministry's old headquarters.
Clutching their cameras, a group of three 24-year-old girls waited patiently in a queue to take a photo by the Ministry of Railways building sign.
When asked why they bothered, they shrugged and said it was a historic moment. "In China, many people take trains. They're a big part of our lives," one of the girls said.
Users of weibo, China's version of Twitter, had much stronger views on the benefits of the ministry's demise. This week, railway reform is one of the most popular topics on weibo, with over 10 million discussion threads.
"Considering how useless the rail system is, including the bugs on their ticket-selling website, I can say it's good to not have a Ministry of Railways!" said one typical post.
Others worried about how the privatisation of the railways would affect them.
"The Ministry of Railway was 2 trillion yuan ($321bn, £215bn) in debt," noted one user. "It looks like train ticket prices are definitely going to rise!"
When photos surfaced online of retired Ministry of Railways employees crying because of its closure, some weibo users lost their tempers.
"You didn't cry for the speed train accidents. You didn't kill yourselves for the Ministry of Railways' corruption. When the ministry is merged, you all came out to take pictures and weep!" complained one user.
Many online users were unimpressed with the plan to dissolve the ministry, arguing that changes needed to be more extreme.
"What's the big deal about changing the name on the door?" asked one user. "The ministry will become a company. It will still do the same things."
"I think if we want to reform, we have to start over," decided another.
"Every level of the ministry, from service to management level, has to be replaced. We all should compete fairly for those jobs, and those who aren't qualified should move on."
China's new leader, Xi Jinping, gained popular support by working swiftly to excise the Ministry of Railways.
The Chinese leadership is now under pressure to prove that the country's beleaguered train passengers will actually benefit from Mr Xi's top-down reforms.