Smog and sandstorm engulf China's capital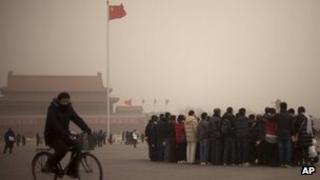 Air quality in China's capital, Beijing, has once again hit serious levels, with thick smog and a sandstorm blanketing the city.
State news agency Xinhua, quoting officials, said the pollution levels were "dangerous".
Beijing's environment agency blamed large amounts of dust blowing in on strong winds from Inner Mongolia, and urged people to stay indoors.
Last month, air pollution also soared past levels considered hazardous.
The Beijing Municipal Environmental Monitoring Center said high pollutions were also recorded in others parts of China, including Tianjin and Hebei province.
"We would hope that everyone stays indoors as much as possible and that people carry out appropriate measures for protection," the agency said on its verified account on Sina Weibo, China's version of Twitter.
Xinhua says that readings in Beijing for the tiniest pollution particles - called PM2.5 - reached more than 400 microgrammes per cubic metre on Thursday, which is considered "dangerous".
An unofficial reading from the US embassy's air quality index recorded over 500 early in the morning, but changed to 168 as of 13:00 (05:00 GMT).
World Health Organization (WHO) guidelines say average concentrations of PM2.5 should be no more than 25 microgrammes per cubic metre. Air is unhealthy above 100 microgrammes and at 300, all children and elderly people should remain indoors.
Once inhaled, the tiny particles can make people more vulnerable to respiratory infections, as well as leading to increased mortality from lung cancer and heart disease.
"Smog had already been forecast but now there's a sandstorm mixed together! So I can't open my eyes or mouth," Beijing resident Hu Jing was quoted by Reuters news agency as saying.
"I was shocked this morning when I awoke to see yellow skies," added Zhang Xiang.
"I'm already used to smoggy skies. But as for the moment and this sandstorm, I feel like this has been one disaster after another," the Beijing resident told Reuters.
Repeatedly high pollution levels in many Chinese cities have led to growing calls for the government to do more to balance growth with concern for the environment.