China media: Egypt accident anger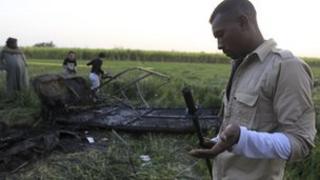 Media in Hong Kong demand a full inquiry after nine of the territory's residents were among 19 tourists killed in a hot air balloon fire in Egypt's Luxor on Tuesday.
Wen Wei Po urges the Hong Kong government to liaise with Beijing and Egypt and step up public warnings about high-risk tourism activities. It also reminds travel agencies to strengthen crisis management and safety awareness.
Singtao Daily says the government must press the Egyptian authorities to investigate any possible safety negligence and "give justice to the victims".
Oriental Daily News says Hong Kong must upgrade its red travel warning for Egypt as travel agents and tourists are still going there for non-essential travel.
On cross-strait ties, Chinese President Hu Jintao told Lien Chan, visiting honorary chairman of Taiwan's ruling Kuomintang party, that their "shared vision" for improving ties had been "proven right" by the "major progress" witnessed since their historic meeting in 2005, People's Daily reports.
During the meeting, Mr Lien said Taiwan had been an international troublemaker in the past, in indirect reference to former Taiwan President Chen Shui-bian's tenure between 2000 and 2008, Hong Kong's Apple Daily adds.
On the domestic front, China's rural poor population has declined for the first time since the poverty line was raised in 2011, although poverty alleviation work remains arduous, Xinhua news agency reports.
The government aims to reduce the number of rural students who drop out or migrate to urban areas because of village school closures and mergers, China Daily reports.
China's rising sea levels hit a record high in 2012 due to global warming and land subsidence, threatening millions of coastal residents, reports China Daily.
The Beijing News urges the environment ministry to stop treating pollution data as "state secrets" after it turned down requests to release the findings of a survey into groundwater contamination in 200 cities across the country.
The newspaper says the ministry must release the think-tank survey on groundwater contamination in the North China Plain which showed that only around 22% of groundwater sources is drinkable.
'Contaminated rice'
Oriental Daily News says authorities are investigating after more than 200,000 tonnes of rubbish was dumped illegally near a reservoir that will become Shenzhen's main source of drinking water next year.
A Southern Daily reporter says various sample of rice from Hunan on sale at a market in Guangzhou in neighbouring Guangdong province were found to contain excessive levels of cadmium.
Meanwhile, in Jiangxi, water supplies "return to normal" after a fuel spill in Lake Poyang cut off tap water for 60,000 residents, China Central Television reports.
Oriental Daily News says villagers attacked a fellow villager in Pailian, Zhejiang, after he had offered an environmental official money to swim in a polluted river.
Elsewhere, Global Times tells of an ongoing "media war" between the Voice of the People newspaper - set up by villagers in Nangaoying in Hebei - and the village authorities' Gaoying Bao.
The official newspaper has fought back against the renegade newspaper's accusations of forcible land grabs and demolitions by officials.
Swedish furniture maker Ikea surprises customers in China with reassurances that its meatballs are made locally and contain no horsemeat. Many had assumed the meatballs were from Europe, China Daily reports.
The firm has halted sales of its Europe-supplied meatballs in Hong Kong city to conduct tests, says Oriental Daily News.
Also in Hong Kong, South China Morning Post reports a "shock move" by the Office of the UN High Commissioner for Refugees to cut financial aid from June to some 132 recognised refugees living in Hong Kong.
Qianjiang Evening News and The Beijing News call for calm after disgruntled residents in Henan threaten to destroy the family graves of a local mayor in retaliation for a controversial grave-levelling campaign.
Global Times complains that China has entered a "muck-raking era", where bad news is seen as the true picture of society and good news is ignored. It cites what is said was a "lukewarm" public reaction to new data showing that their country now has murder rates below Japan and Switzerland.
More than 100 parents of gay people have sent an open letter to parliament calling for marriage rights for gay couples, Southern Daily reports. Lesbian couples in Beijing and Guangzhou were rebuffed recently for trying register their marriages.
Finally, the Beijing News tells of how Ms Zhang in Beijing was ridiculed after her fake pregnancy belly slid off while trying to squeeze onto a bus. Her complaint received little sympathy from authorities.
BBC Monitoring reports and analyses news from TV, radio, web and print media around the world. For more reports from BBC Monitoring, click here. You can follow BBC Monitoring on Twitter and Facebook.