China media: Pyongyang pressure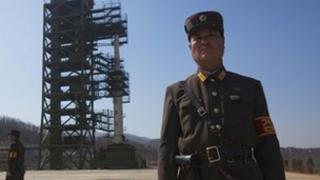 Chinese media and experts voice concern over rising regional tensions, amid pressure on Beijing to rein in North Korea after its third nuclear test.
The Foreign Ministry expressed "firm opposition" to Pyongyang's third test in defiance of UN Security Council resolutions, but did not specify further action. Foreign Minister Yang Jiechi also made "solemn representations" to North Korea's ambassador to China.
Xinhua's microblog says the Chinese foreign minister's "solemn representations" to North Korea over the test yesterday were unprecedented. "Such a practice has been uncommon in the past," it says.
A Xinhua News Agency commentary yesterday called North Korea's nuclear test "unwise", but did not warn of any reprisals from China.
Zhang Xiao'an, vice-chairwoman of the United Nations Association of China, came to Beijing's defence this morning on China Central Television by stressing that the Chinese Foreign Ministry made a "very clear-cut response this time".
"We hope that the international community, especially the US, can understand China's reasonable concerns regarding North Korea. We hope that all parties concerned can respect China's strategic interests and security concerns and not engage in actions that escalate the situation," Ms Zhang said.
A number of mainland experts also defend China's reluctance to take tougher action against its neighbour.
Ruan Zongze, deputy director of the China Institute of International Studies, a foreign ministry think-tank, stresses in an interview with Xinhua that China has already "made huge efforts" and "developments on the Korean Peninsula do not just depend on China".
In interviews with Ta Kung Pao, a Hong Kong newspaper with close ties to the Beijing government, former diplomats and think-tank experts accuse the US and the West of spreading propaganda that China has failed in its international duties by "appeasing" Pyongyang.
"We do not agree with North Korea's nuclear test, but this does not mean that we oppose North Korea on everything. So the idea that the North Korean nuclear test will turn China and North Korea into enemies is incorrect. This is what some people in the West want," Guo Chongli, vice-chairman of state-run think-tank China Foundation for International Studies, tells the newspaper.
Wen Wei Po, another Beijing-backed Hong Kong daily, says China "has done its utmost" and kicks the ball to the US and North Korea by reminding both sides to get back to the negotiating table.
However, Hong Kong newspapers also point out China's criticisms appear milder this time.
Ta Kung Pao contrasts China's reaction to its unprecedented harsh rebuke of Pyongyang "flagrantly conducting a nuclear test" for the first time in 2006.
"China does not seem to want to go too far... 'Flagrant' is a diplomatic term not readily used by China," Hong Kong's Ming Pao comments.
Ming Pao notes that China has previously used the term "flagrant" in anger against then-Japanese prime minister Junichiro Koizumi's visit to the controversial Yasukuni Shrine in 2006 and Nato's bombing of the Chinese embassy in Yugoslavia in 1999.
Some experts play down the nuclear test as Pyongyang's jockeying for a stronger negotiating position in future talks with the US.
"North Korea did not carry out this test because it wanted to test the world, but to increase its bargaining chips," Liu Zheng, a North Korea specialist at the National School of Administration Graduate Department, tells China National Radio.
"The US will eventually accept North Korea's nuclear weapons, despite putting on a stance of not accepting it. The US' allies, Japan and South Korea, will be forced to accept North Korea's nuclear weapons," Shen Dingli, associate dean at Fudan University's School of International Relations in Shanghai, adds.
However, concern and exasperation is evidently growing among some Chinese experts.
"China should make it clear to North Korea why we do not support it developing nuclear weapons... North Korean society is changing and it should not be dragged down by the nuclear issue," former Chinese ambassador to South Korea Zhang Tingyan tells Ta Kung Pao.
On a firmer note, Maj-Gen Xu Guangyu, senior adviser of the China Arms Control and Disarmament Association, tells Wen Wei Po that North Korea's "military-first politics is wrong" and UN sanctions will be unavoidable.
"China, despite being the North's closest ally, has realised its strategy of subtle persuasion is not effective," Hong Kong's South China Morning Post comments.
Ta Kung Pao says "friendship with North Korea cannot become a burden for China", but urges China to make clear its opposition to armed force against the country.
"If anyone goes against China's major principles, China should take practical action to express its opposition. If China lacks the resolute will to do this, we can forget about establishing our prestige as a great power," it adds.
'Political drama'
Meanwhile, territorial tensions continue to simmer with Japan as Communist Party-run website People's Daily Online accuses Prime Minister Shinzo Abe of taking the starring role in a "drama of accusations against China" by calling the Chinese military's alleged radar provocations last month "highly regrettable".
The Chinese government firmly denies Tokyo's accusations that the Chinese navy locked weapons-targeting radar at a Japanese destroyer and helicopter in January.
"A political drama of accusations against China is being staged loudly in Japan... The protagonist of this drama is Japanese Prime Minister Shinzo Abe...
"The Japanese media and officials are playing supporting actors by accusing China of 'wanting to provoke a military conflict' and shouting about 'withdrawing the ambassador to China' in an attempt to concoct an image of a 'high-handed China' in international public opinion," the website says.
Over in the Philippines, the government is asking bookshops to stop sales of Chinese-made globes showing claims to disputed islands in the South China Sea, South China Morning Post reports. The globes show Beijing's "nine-dash line" marking sovereignty over waters and islands that are also claimed by the Philippines and other neighbours.
BBC Monitoring reports and analyses news from TV, radio, web and print media around the world. For more reports from BBC Monitoring, click here. You can follow BBC Monitoring on Twitter and Facebook.