Arrests over China baby's death in one-child policy row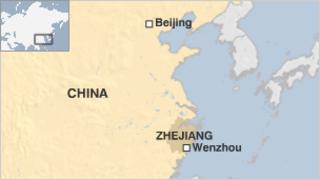 Police in China have detained two government workers after a baby was killed in a dispute over a violation of the country's one-child policy.
State media said the 13-month-old boy was dropped as family planning officials tried to fine his parents for having three children.
The infant was then run over by the officials' van.
Thousands of residents protested outside local government offices on Monday, after the death occurred.
China's one-child policy has been in place more than three decades.
It restricts couples in urban areas to having only one child.
Tussle
Monday's altercation took place in Mayu township in the shadow of Wenzhou city in Zhejiang province, eastern China.
Eleven officials from the Qingxiang community in Mayu were attempting to persuade the baby's parents, Chen Liandi and Li Yuhong, to pay fines for their third child on Monday and were confronted by Mr Chen, a local government official told state news agency Xinhua.
"We were required to pay 30,000 to 40,000 yuan [up to £4,000 or $6,500], otherwise they would have detained us," Mr Chen told Xinhua.
He said his son was dropped during a tussle with officials, and then went under the wheels of one of the government vehicles. The child was confirmed dead in hospital.
That prompted a furious reaction from residents, thousands of whom staged a noisy protest outside government offices.
Xinhua now reports that the van driver and the local Communist Party secretary have been arrested. There is no word on what charges they could face.
Forced abortions
There has been growing resentment across China against the enforcement of strict family planning rules, says the BBC's Asia analyst Charles Scanlon.
Some of the regulations have been relaxed, allowing second children to those in rural areas or to parents who are themselves both only children.
But violators still face fines and problems registering their children for school and medical care.
There have also been reports of more brutal methods, including forced abortions and sterilisations conducted by overzealous local officials.
There was shock in June last year when photos were leaked of a woman lying next to the foetus she had been forced to abort under the one-child policy.
The mother, Feng Jianmei, had been seven months' pregnant.