China clinic 'infects dozens with hepatitis'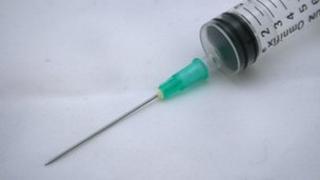 Dozens of people in China's Liaoning province are suspected of having contracted hepatitis C from injections at a clinic, say state media.
Xinhua said an investigation was launched in to the Donggang city clinic in late January after a tip-off.
Officials screened 120 people who had received varicose vein treatment there and say 95 may have been infected.
The agency said "the possibility of improper medical behaviour" at the clinic had not been ruled out.
The potentially infected people are being treated in hospital, says Xinhua, and investigations are continuing.
Hepatitis C is an infectious disease which is primarily spread through blood-to-blood contact.
It is a lifelong disease which mainly affects the liver and can lead to cirrhosis, where the liver becomes scarred and cannot function, or liver cancer. It can be fatal if untreated.
In 2001, it emerged that hundreds of thousands of people in China's central Henan province may have been infected with the HIV virus after selling their blood in the early 1990s.