China corruption: Policeman 'bought 192 homes with fake ID'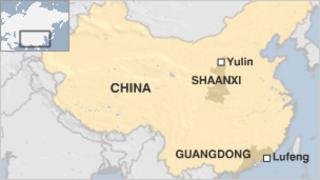 A senior policeman in the southern Chinese city of Lufeng is alleged to have bought 192 houses with fake identity papers, state media report.
Zhao Haibin is no longer a police chief, but he is still a senior figure in the local Communist Party.
Xinhua says that Mr Zhao has admitted having another ID, but says he only managed flats owned by his brother.
There is widespread anger over similar cases where officials used fake identities to buy multiple properties.
Police this week arrested a woman - dubbed "house sister" by online whistleblowers - who used forged papers to buy more than 40 properties worth at least 1 billion yuan ($159m; £101m).
Gong Aiai was a former vice-president of the Shenmu Country rural commercial bank in Yulin city.
She was detained on Monday for forging official documents and a government stamp, Xinhua reports. At least seven other people, including police officers, have been detained for helping her with the forgery.
Police in north-east China say they are also investigating an anti-corruption official who allegedly bought more than a dozen properties in his wife's name.
'Tigers and flies'
Mr Zhao, who was the deputy police chief in Lufeng, has been dubbed China's most corrupt official online, reports the BBC's Damian Grammaticas in Beijing.
He is alleged to have bought all 192 flats using his identity, the fake identity and a company name.
The case came to light in 2011 after he was reported by a businessman who was involved in a dispute with the officer, the Guangzhou Daily newspaper said. Authorities cancelled the false card at that time.
An official in Lufeng's Communist Party's disciplinary department told the AFP news agency that the inquiry into the case was over and Mr Zhao had retained his posts in the party.
Many of these cases have come to light since China's new leader Xi Jinping promised last year to crack down on corruption, saying it threatened the Communist Party's hold on power.
They have caused widespread anger and outrage online and some Chinese campaigners have set out to act as "whistleblowers", exposing alleged wrongdoing on the part of officials.
Last month, Mr Xi promised he would battle both "tigers" and "flies", indicating that officials at all ranks in the country were under scrutiny.