Rumours swirl around Bo Xilai trial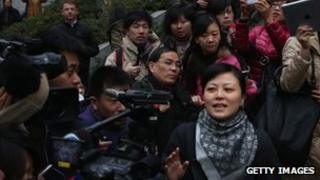 The trial of the sacked former senior Communist Party official Bo Xilai is not expected to begin before March, according to a Communist Party-controlled paper in China.
The English-language tabloid the Global Times - which is published by the party's official mouthpiece, the People's Daily - said the trial "is expected to open after the 'two sessions' in March", sourcing the claim to someone close to the country's "top judicial body".
That means the trial, China's most high-profile one in years, may not happen until after the annual meetings of the National People's Congress, the NPC - China's rubber stamp legislature - and its counterpart, the advisory body the CPPCC. The meetings are when China's new Communist Party leader Xi Jinping will officially be installed as president, taking over as head of state, and so when China's once-in-a-decade transfer of power will be complete.
But, on Friday, we'd heard exactly the opposite, from another Beijing-backed paper, Hong Kong's Ta Kung Pao.
It, too, had reported, based on sources, that the trial would begin today (Monday) in south-western China. That set the rumour mill swirling.
The Chinese Law Professor Blog was among those trying to get to the bottom of it.
Bo Xilai's impending appearance has been called "China's trial of the century", and some say it's the most important legal event in China since the "Gang of Four" were tried in 1981, after their power waned following Chairman Mao's death.
So, naturally, Ta Kung Pao's claim caused a stir. On the strength of it several dozen journalists, from international and Hong Kong media groups, travelled almost 1,500 miles from Beijing to the city of Guiyang over the weekend, a three-hour flight, just in case.
'Trial of the century'
You can see what happened early this morning here. The reporters gathered outside the court, surrounded an official who came to say there was no trial, and wouldn't leave until a formal press conference was held to confirm there really was no trial happening.
Ta Kung Pao even reported on the effect of its own report.
So far, so farcical. The court officials in Guiyang had spent all day on Friday fielding phone calls from anxious reporters, and consistently denied they knew anything about the trial.
On Monday, they told reporters that "if the next step is to hold the Bo Xilai trial in Guiyang's court, then, as according to the rules we will inform our media friends promptly".
The Global Times' source on Monday said "the date and location of the trial will certainly be made public in advance, it's unnecessary to make speculations".
But it's a measure of how little confidence many have in the pronouncements of Chinese officials that so many journalists made the trek to Guiyang, anxious the "trial of the century" may be about to happen, and fearing it was possible it could start without China telling anyone.
Bo Xilai was one of the rising stars of Chinese politics - charismatic, populist, ambitious, with an impeccable communist pedigree as the son of a revolutionary leader. His downfall and arrest last year came after he fell out with Xi Jinping and other leaders. It caused a political crisis just ahead of the leadership transition.
He is now accused of massive corruption, abuse of power and having many mistresses. He was brought down last year after his former deputy, Wang Lijun, fled to the US consulate in Chengdu, told diplomats that Mr Bo's wife Gu Kailai had killed the British businessman Neil Heywood, and Bo had tried to cover it up. Gu Kailai and Wang Lijun have both already stood trial and been convicted.
Now no-one wants to miss the main event, Bo's own trial, because this is a story that brings together corruption, sex, money, murder and power struggles at the very top of China's secretive Communist Party-controlled state. It's a glimpse into the world of China's elite that we rarely see.
How the trial is handled will be a test for Xi Jinping and China's new leaders. They are anxious to show that this is an example of how China's authoritarian, one-party system can be trusted, by China's people, to deal with corruption and abuse of power. It's in their interest to ensure the procedures look transparent and impartial, so they can say that China is a nation with the rule of law, and corruption at the top is limited to just a few bad apples.
However, few in China are under any illusions that the trial is highly political and highly sensitive, and that the courts are subordinate to the Communist Party. There are many aspects of the case that the Party may not want aired openly. Bo Xilai has been held in secret. He has had no chance to defend himself against the accusations and may not get a chance during his trial.
Above all Mr Bo was popular. He said his policies were all about social justice, claiming he was cleaning up corruption, cracking down on dodgy officials in league with gangsters. He spent huge amounts on projects like subsidised housing, saying he wanted to narrow the growing gap between rich and poor.
His policies struck a chord and he had many followers. Some still don't believe he too was corrupt and apt to ride roughshod over the law. A small group even turned up outside the court in Guiyang today and unfurled a banner saying "Secretary Bo, corrupt and incompetent officials envy you, the people love you". So it's a dilemma for China's leaders, just how open to be about the trial, just how much detail to divulge about corruption among Party leaders, and just how harsh to be with Bo Xilai.
As for us journalists, we might be told when the trial is happening. But even if we are it's highly unlikely we'll be allowed inside to watch it happen up close - that may be a step too far.