China sacks sex video extortion scandal officials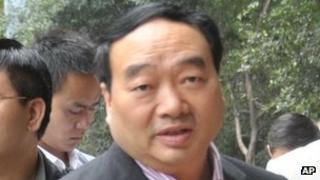 Ten Chinese officials have been fired as part of a widening investigation into a sex tape extortion scandal in Chongqing, state media report.
Xinhua news agency said the men were all allegedly filmed by a "criminal ring" which then blackmailed them.
Police in the city had since broken up the ring, said the agency.
Senior Chongqing official Lei Zhengfu was fired last year after he featured in a sex video. He was said to have been entrapped by a construction firm.
The 10 sacked officials include party and government officials in the southwestern city as well as executives in state-owned companies, Xinhua reports, without naming any of them.
It said an investigation into the allegations of extortion had uncovered a "criminal ring" which had "hired women to seduce local officials, covertly filmed their sexual acts and used the videos as tools of extortion".
The blackmailers are alleged to have been property developers seeking favourable construction contracts from influential city officials.
The investigation is part of a wide-ranging anti-corruption drive in Chongqing and across China, in response to rising public anger at official impropriety.
The former party leader of Chongqing, Bo Xilai, is currently awaiting trial on charges of corruption and abuse of power in one of the country's biggest recent scandals.
Mr Bo's wife, Gu Kailai, has been jailed for the death of British businessman Neil Heywood. His former police chief, Wang Lijun, also received a jail term in connection with Mr Heywood's murder.
Xi Jinping, the newly-installed head of China's Communist Party, has said battling corruption in the party is a top priority.