Hong Kong leader CY Leung in housing pledge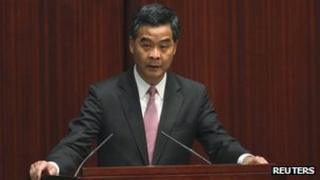 Hong Kong's Chief Executive CY Leung has promised to tackle the city's housing woes, in his first policy speech to the Legislative Council.
Mr Leung said more land would be made available for housing and targets set for subsidised public housing units.
He also promised to work to address pollution problems and push to sustain the Hong Kong's economic growth.
His speech comes after thousands of people took part in a demonstration on 1 January calling on him to step down.
The protesters say he lied about illegal structures at his home, a politically sensitive issue in the city.
They also called for the right to be able to vote for their leader, who is currently selected by a small committee loyal to Beijing.
'External demand'
The policy speech by CY Leung, who took office in July and will serve a five-year term, was broadcast live on television.
He promised action to address a property crunch that has seen some residents forced out of the property market and even into tiny so-called "cubicle homes".
Land would be both re-zoned and reclaimed so it could be developed for housing, leading to a greater supply, he said. A target of 100,000 new public housing units would also be set for the five years from 2018.
"As long as the housing shortage persists, we have no alternative but to restrict external demand and curb speculative activities," he said.
"Similarly, for other areas prone to shortages, I will put Hong Kong people first," an official draft of his speech quoted him as saying, in apparent acknowledgment of tensions over an influx of visitors and money from the mainland.
Air quality issues would be addressed, he said, including through HK$10bn ($1.3bn: £800m) in subsidies aimed at phasing out more than 80,000 heavily polluting diesel commercial vehicles.
Mr Leung also pledged to maintain a ban on mainland mothers giving birth in Hong Kong - a source of tension in the city because residents say it strains local resources.