UN rights chief urges probe into 'deplorable' N Korea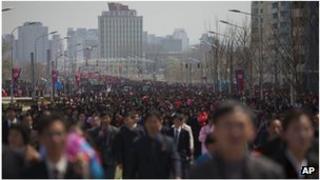 The UN human rights commissioner Navi Pillay has called for an international investigation into decades of serious human rights abuses in North Korea.
In a rare statement on the country, Ms Pillay said it had "one of the worst - but least understood and reported - human rights situations in the world".
There had been no sign of progress under new leader Kim Jong-un, she said.
She also expressed regret that the world's attention was almost entirely on its nuclear and rocket programmes.
"While these, of course, are issues of enormous importance, they should not be allowed to overshadow the deplorable human rights situation in DPRK [Democratic People's Republic of Korea], which in one way or another affects almost the entire population and has no parallel anywhere else in the world."
In her statement, Ms Pillay said at least 200,000 people were believed to be interned in North Korea's "elaborate network" of political prison camps, and that survivors of the camps whom she had spoken to "described a system that represents the very antithesis of international human rights norms".
She added: "The highly developed system of international human rights protection that has had at least some positive impact in almost every country in the world seems to have completely bypassed DPRK, where self-imposed isolation has allowed the government to mistreat its citizens to a degree that should be unthinkable in the 21st Century."
She also criticised the use of the death sentences for minor offences, and the uncertainty surrounding the fate of Japanese and South Korean citizens abducted by the North over decades.
While there were initial hopes "that the advent of a new leader might bring about some positive change in the human rights situation", she said, a year after Kim Jong-un took over from his late father, "we see almost no sign of improvement".
It was not immediately clear why Ms Pillay had chosen to issue her statement at this time - there have been numerous previous reports containing similar allegations.
But it comes weeks after Pyongyang launched a long-range rocket which put a satellite in orbit, contravening international sanctions which ban tests of missile technology.
There is also growing concern the country could be planning to follow up on the launch by staging a nuclear test, as it did in 2006 and 2009.