Chinese newspaper in rare battle with censors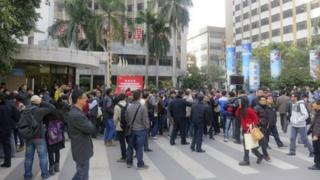 The BBC's Beijing bureau looks into what caused the row between the editorial staff of China's influential Southern Weekly newspaper and provincial censors.
This is not the first time that journalists at China's gutsy Southern Weekly newspaper - also known as the Southern Weekend - have tussled with government censors.
In 2009, the Guangzhou-based paper carried two large, blank spaces on its first two pages.
After scoring an exclusive interview with visiting US President Barack Obama, the spaces were an apparent protest by the paper's editors. They were apparently angry after being forced to pull a photo showing a handwritten letter to the paper from Mr Obama, praising Southern Weekly's commitment to press freedom.
Editors and journalists from the paper have been fired in the past. In 2001, three editors, including the paper's editor-in-chief, were dismissed after they published an interview with the author of Corpse Walker, a book detailing the lives of China's poorest people.
A year later, a Southern Weekly journalist was fired after he wrote an investigative report on the misuse of funds at a Chinese charity.
Line crossed
So what happened at the Southern Weekly to spur its beleaguered journalists to finally walk off the job?
This time, it seems that Tuo Zhen, the propaganda chief overseeing the paper, was the one who crossed the line.
"Tuo Zhen did not stick to the protocol that people are used to," said Jeremy Goldkorn, founder of Danwei, a firm that researches Chinese media and the internet.
The unwritten rules governing the Chinese media vary from outlet to outlet, but all journalists and editors follow the same basic system.
Sometimes, censorship instructions come in phone calls directly from Beijing, ordering editors how to deal with sensitive stories.
However, on a daily basis, individual journalists submit content to their editors, who are then tasked with tweaking the content to meet the needs of the local propaganda department.
Mr Goldkorn explains that the relationship between editorial staff and propaganda officials is an important one because newspapers must stay in the good graces of the censors so that their annual licences can be renewed. Without a licence, the paper must shut down.
'Close relationship'
Despite the occasional clash of ideas, Southern Weekly had found common ground with its local propaganda department in recent years, said Professor Zhan Jiang, from the Beijing Foreign Studies University's department of international journalism and media.
"They had a rather close relationship. In some cases, they were rather friendly," he says.
But last May, Beijing inserted itself into this cosy partnership by sending its own propaganda chief, Tuo Zhen, to Guangdong.
Mr Zhan says that ahead of the leadership change last October, the officials in charge of China's central propaganda office at the time were keen to suppress the relatively freewheeling media outlets in southern China.
Under Mr Tuo's watch, stories were often struck from the paper and the atmosphere became tense.
Emotions boiled over last week when Mr Tuo reportedly inserted his own comments into Southern Weekly's New Year message after the editors had already signed off on the final version of the paper, marking a departure from normal procedures.
'Seems unusual'
"In the past, they have stopped the presses or they have pre-censored things before it has got to the stage of going to press, or there has been trouble after something has gotten printed," Mr Goldkorn said.
He added that exact details of Mr Tuo's transgressions have yet to emerge, "but it seems unusual when the person in charge of propaganda for the province actually goes to the newspaper office and actually is in charge of ensuring the change before it goes to print".
Journalists working for Southern Weekly refused to be interviewed for this story, saying they did not want to anger the central government by speaking to foreign media.
They are hoping that if they stay quiet, their paper will be spared and Tuo Zhen will shoulder the blame for this latest brouhaha.
However if the protests in favour of Southern Weekly continue, that places the new government under Xi Jinping in a difficult position, says Prof Zhan.
Hardliners in Mr Xi's government will resist giving in to such public protests.
Mr Goldkorn believes that even if Mr Tuo remains in his position, Southern Weekly will also continue to soldier on.
"I don't think there's a single person in the Chinese government committed to media liberalisation, but I think there are people who recognise that there are some voices... that are useful to have around for society. It would be extreme of them to completely crush it."