Southern Weekly reporters confront China censors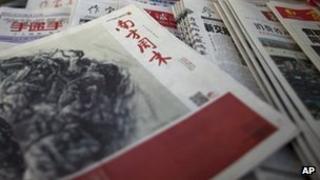 Journalists at a leading Chinese newspaper have called for a propaganda chief to resign, in a rare protest against censorship.
Prominent former staff and interns at the Southern Weekly urged the official to quit after he changed an editorial into a Communist Party tribute.
They accused him of being "dictatorial" in an era of "growing openness".
The row comes as the website of a liberal journal was closed, after it ran an essay urging political reform.
The influential online magazine, Yanhuang Chunqiu (or China Through the Ages), had called on China's leaders to guarantee constitutional rights such as freedom of speech and assembly.
Correspondents say the censorship row is an early test of whether China's new leaders, announced in November, will be open to reforms.
'Crude'
The row at the Southern Weekly - known for hard-hitting investigations and testing the limits of censorship - erupted after a new year editorial calling for guaranteed constitutional rights was changed at the last minute to one extolling the virtues of the Communist Party.
In two open letters, 35 prominent former staff and 50 interns at the paper have demanded the resignation of the provincial propaganda chief in Guangdong, Tuo Zhen.
They said the move amounted to "crude" interference.
"If the media should lose credibility and influence, then how can the ruling party make its voice heard or convince its people?" a letter on Friday said.
BBCChinese.com editor Zhuang Chen says it is thought to be the first time there has been a direct showdown between newspaper staff and party officials.
On China's popular microblogging site Sina Weibo, dozens of search terms involving the Southern Weekly controversy are reportedly being filtered.
There are reports of many users being suspended from the service.
A foreign ministry spokeswoman said China did not censor news.
While state media have been trying to paint the country's new leaders as reform-minded, the authorities have been clamping down on dissent, the BBC's Martin Patience in Beijing says.
Many reformers argue that without greater freedom of expression and - more grassroots democracy - the Communist Party could face serious unrest or worse, our correspondent adds.
Chinese media are supervised by so-called propaganda departments, which often change content to align it with party thinking.
Beijing also uses extensive internet controls, known as the "Great Firewall of China", to block access to material considered subversive or pornographic.