China school knifing: Six officials sacked in Henan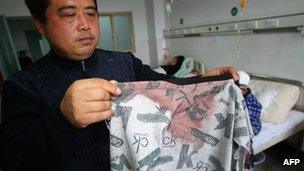 Six officials have been sacked over their handling of a knife attack on a school in China's Henan province last week, state media report.
Two school principals, two police officers, an education and a safety officer were removed, Xinhua said.
No reason was given, but the sackings come after an outcry over the local authority's response to the knifing.
On 14 December 23 young children were wounded by a man wielding a knife at a primary school in Chenpeng village.
An elderly woman was also attacked and injured by the man.
A 36-year-old man, named by Xinhua as Min Yongjun, was arrested at the scene on charges of endangering public security.
On Monday state media reported that Mr Min was influenced by doomsday rumours.
A number of people around the world believe that an apocalypse will take place on Friday 21 December, as the Mayan "Long Count" Calendar ends a 5,200-year cycle.
Meanwhile, more than 100 people have been arrested in several provinces around China for spreading doomsday rumours, state media reported.
Many are believed to be members of the Almighty God Christian group.
Xinhua describes the group as a cult, saying it was established in 1990 in Henan.