Death for three plane hijackers in China's Xinjiang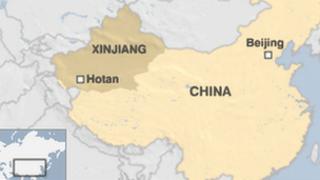 A court in China's restive Xinjiang region has sentenced three men to death for attempting to hijack a plane in June, state-run media report.
The court also found a fourth man guilty of the incident and jailed him for life, says Xinhua news agency.
The short report gave no further details of the hijack incident.
In June, state media reported a hijacking in Xinjiang on a Tianjin airlines plane from Hotan bound for Urumqi.
In that incident state media reported that police detained six hijackers, members of the Muslim Uighur minority.
Two of those hijackers were reported by the Global Times newspaper to have died from injuries sustained in a fight as they tried to break into the plane's cockpit.
Almost half of Xinjiang's residents are Uighurs, a Muslim minority group with cultural and ethnic links to Central Asia.