China 'sex slave' case: Li Hao sentenced to death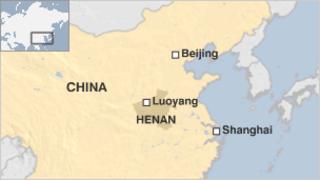 A court in China has sentenced a man to death for keeping six women as "sex slaves" and for his role in the murder of two of them, state-run media report.
Li Hao, 35, from Henan province, was convicted on charges including murder, rape, organised prostitution and illegal detention, Xinhua says.
The court heard how he built a dungeon in his basement where he forced the women to work as prostitutes.
Three of the women he held were given leniency for their role in the murders.
One received three years and the two others were put on probation, according to Xinhua. Police were quoted as saying that he coerced them to kill two others being forced to work alongside them.
Eventually, one of the women managed to escape and approach the police.
An investigation by police revealed that Li dug the basement in 2009 and held the women for between two to 21 months.
He repeatedly raped the women, forced them to have sex with other men for money and made them perform in pornographic web shows.
The women had worked at nightclubs and karaoke bars.
Li, who is married, worked as a local government clerk.