Tibetan students protest, as four more self-immolations reported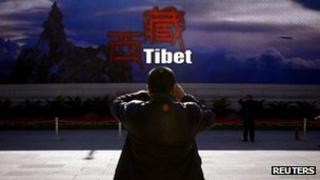 A crowd of Tibetan students has protested in Qinghai province, activists say, as four more self-immolations were reported.
Reports said more than 1,000 students took part in the protest, which was reportedly provoked by the contents of a book.
Twenty students were in hospital, media reports and activist groups said.
The four self-immolations, meanwhile, occurred in Gansu, Sichuan and Qinghai provinces on Sunday and Monday.
Foreign media are banned from Tibetan regions, making reports of protests and self-immolations hard to verify independently. Chinese state media reports some of the protests and burnings but not all.
The student protest took place on Monday in Gonghe county in Qinghai province, London-based Free Tibet said.
"The students of Tsolho Medical Institute protested against the distribution of a book condemning the study of Tibetan language as devoid of relevance and the self-immolations as acts of stupidity," US-based Radio Free Asia (RFA) quoted an exile as saying.
The morning protest was peaceful until police arrived, Free Tibet added. After that the exact chain of events was not clear, the group said.
Officials had sealed the school, Free Tibet said. Of the 20 people hospitalised, four required emergency treatment, it said.
Self-immolations
Of the four Tibetans who set themselves on fire in separate incidents, three are reported to have died.
Teenage nun Sangay Dolmas died in Qinghai on Sunday. Kunchok Tsering, 18, and Gonpo Tearing, 24, died in Gansu on Monday.
Wang Gyal, 20, a former monk, set himself on fire in Sichuan on Monday. His condition is currently unknown.
More than 80 Tibetans have set themselves alight since 2011 in what activists say are protests against Beijing's rule.
More than half are believed to have died. Most of the cases have occurred in Tibetan areas outside Tibet.
There were at least six self-immolations reported as China's Communist Party held a congress in Beijing that transferred power to a new generation of leaders.
Beijing says Tibet as a region is getting wealthier and that Tibetans have religious freedom. The government accuses exiled Tibetan leaders including the Dalai Lama of stirring up unrest.
He rejects this, and both activist groups and the Tibetan government-in-exile say the self-immolations are protests against tight Chinese control of the region and religious repression.