China media: Li Keqiang's call on Aids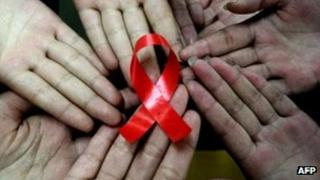 Vice-Premier Li Keqiang promised more care for people with HIV/Aids after a man allegedly concealed his status so he could get surgery he needed, newspapers report.
China Daily and the Global Times report Mr Li, tipped to succeed Wen Jiabao as premier in 2013, contacted the Health Ministry to express his concern after learning of the controversy.
"The Health Ministry will improve services at designated hospitals to better help people with HIV/Aids beyond just treating them," China Daily quoted Health Minister Chen Zhu as saying.
Shanghai Daily and others say the 25-year-old man from Tianjin was denied lung cancer surgery at a local hospital after he was tested positive for HIV.
The patient eventually received treatment in another Tianjin hospital in mid-November after falsifying medical reports to conceal his status.
China Youth Daily reports health authorities in Tianjin are investigating the incident.
Health officials and infectious disease experts told Beijing News, which first reported the scandal, that medical staff were under great pressure to treat people with HIV/Aids. Campaigners told the paper they hoped the problem could be resolved through government policies.
A People's Daily analysis says society should eliminate discrimination against people with HIV/Aids while improving protection for medical staff at the same time.
Meanwhile, China Daily and China Youth Daily report Li Keqiang told a conference that China should continue with its reforms to achieve healthy and sustainable economic development.
"Reform is still the biggest bonus for China," newspapers quoted Mr Li as saying.
Academics told Hong Kong's Ming Pao Daily News Mr Li had set the tone as a reformer who would maintain Wen Jiabao's policies.
Shanghai Daily and Shanghai Morning Post report Jiugui Liquor, a Hunan-based company, apologised after its Baijiu product was found to contain potentially harmful plasticiser chemicals.
However, drinking around 500ml of the company's liquor a day would not harm people's health, said the statement.
Shanghai Daily reports a woman in Yunnan province was briefly detained by the police on Monday for disturbing public order, after she knelt with other villagers to stop Premier Wen Jiabao's motorcade in a land dispute petition on 8 September as he visited the woman's village after a deadly earthquake struck the area.
The woman was released after paying bail, said the report.
A Beijing News commentary criticised the police for punishing the petitioners with administrative detention - which does not require a trial.
People's Daily reports Bishop Ding Guangxun, also known as Ting Kuang-hsun, died from an illness in Nanjing on Thursday morning. He was 98.
Hong Kong's South China Morning Post and Ming Pao Daily News say Rt Rev Ding led China's government-sanctioned Protestant church after the Cultural Revolution ended in late 1970s.
He joined the Three-Self Patriotic Movement after returning to China from Europe in 1951, and later became its chairman emeritus. He was also the president emeritus of the China Christian Council.
People's Daily praised Rt Rev Ding as the "dear friend of the Chinese Communist Party".