China media: Xi Jinping's new leadership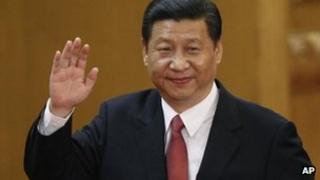 The climax of China's week-long Communist Party congress - the unveiling of the Politburo Standing Committee - fills Friday's newspapers.
The People's Daily editorial says the new Standing Committee under General Secretary Xi Jinping's leadership will be a "strong collective leadership to take on a historic mission".
The editorial says the party congress proved the Communist Party "is a mature, united, harmonious and innovative Marxist Party that can always retain its vanguard role".
"Socialism with Chinese character is an unprecedented, majestic undertaking," it went on.
"On the new journey, we have greater responsibility and a heavier burden. We must maintain firmer belief and make more tenacious efforts in order to seize a new victory for socialism with Chinese characteristics."
A front-page commentary in the People's Daily Overseas Edition says party members reaffirmed their "religious faith" in communism as the party anthem was played. "Western society should learn that China's communism is not identical to that of the Cold War era", it says.
The Global Times' English editorial says: "Public opinion will wield more and more influence over China's politics and the Party is increasing its capacity to react to this trend. Therefore, a more vigorous reform could be expected."
"However, as Chinese have been deeply marked by the Cultural Revolution and tragic experiences of some foreign countries, they are willing to seek change while remaining wary of 'revolution'."
The paper's Chinese editorial criticised Western media's "contradictory" view of China by being optimistic about China's future while criticising its political system.
"As long as China maintains quicker development than the West, passes a few more key points, then Western media's description of China's political system will eventually collapse from inside."
Regional papers focus on how to implement the policies laid out in President Hu Jintao's speech to the congress.
The Beijing Times' editorial says the greatest task for all party members now is to take responsibility and "write the story of people's livelihood and well-being", and the key is to "distribute promptly, fairly and in an increased amount the fruit of development to the people".
Focusing on Xi Jinping's speech, Beijing News' editorial says: "We all familiar with the repeated promises from the ruling party of improving people's life. Xi Jinping, in his speech, used more simple and more colloquial language to express the promise. This is refreshing."
"People have the right to long for a better life. The ruling party has demonstrated its commitment by promising a path to make this right a dream come true."
Meanwhile, the Beijing Times and other papers also praised Hu Jintao's "noble character and unimpeachable integrity" for handing over party and military leadership simultaneously.
Guangzhou's Southern Metropolis Daily publishes on its front page a photo showing Mr Xi and Mr Hu shaking hands, apparently trying to portray the power transition as a peaceful one.
China Daily's editorial says: "Former CPC General Secretary and Central Military Commission Chairman Hu Jintao resigned from both positions at the same time has been aptly read as full confidence in the Party's new leaders."
"As they bid farewell to the forefront of national leadership, Hu Jintao and his retiring CPC colleagues deserve congratulations and thanks for what they have brought about and left behind. They have given us plenty of reasons to be confident."
But newspapers in Hong Kong, such as the Hong Kong Standard and AM730, say commentators do not believe the new party leadership will bring any political reform to China.
Commentators told Hong Kong newspapers that although Hu Jintao intends to end gerontocracy - rule by old men - the fact that six of the seven Standing Committee members are backed by former President Jiang Zemin implies no political reform will be possible during Xi Jinping's time.
The editorial of Ming Pao Daily News says Xi Jinping could face a personnel problem as five of his colleagues will reach their retirement age by the next party congress in 2017, breaking the chain of stable leadership formation for two consecutive party congress.