China media: Party congress concludes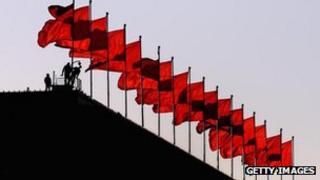 Newspapers look at the selection of the central committee, as the Communist Party congress draws to a close.
The committee is formally selected at a closing session on Wednesday morning.
People's Daily publishes on its front page a report by the official Xinhua news agency of the presidium meeting chaired by President Hu Jintao on Tuesday. China Daily also publishes a corresponding Xinhua report in English on page five.
The presidium approved the lists of nominees - after a primary election behind closed doors on Tuesday - and sent them back to the delegates for "deliberation" ahead of Wednesday's vote.
Delegates said the proposed lists were formed "on the basis of full intra-party democracy", said the Xinhua report. At least 8% of nominees were eliminated in the primary vote, it said.
But Hong Kong's South China Morning Post says analysts described the statement as "a lie", as the number of candidates will match the number of seats available on Wednesday's formal ballot.
"Official media have been tight-lipped on the exact size of the new central committee, but Gansu party congress delegate Wang Dong revealed late yesterday that 205 of 224 candidates had been short-listed in the first round, meaning 9.3% were eliminated," South China Morning Post said.
Meanwhile speculation continues in Hong Kong newspapers over the most powerful posts.
South China Morning Post says propaganda chief Liu Yunshan is tipped to lead the central committee secretariat. It is yet another victory by hard-liners in the power struggle, the paper says.
Ming Pao Daily News and Sing Tao Daily say Vice-Premier Wang Qishan is tipped to lead the central commission for discipline inspection - the party's top corruption buster.
Meanwhile, China Daily and the Global Times report comments made by Shen Deyong, vice-president of the Supreme Court, during an online interactive session with netizens.
"There are possibilities that cases were misjudged, and some judges may turn out to be lacking ethics. It is true in China, as it is true worldwide," China Daily quoted the deputy chief justice as saying.
Mr Shen also said of all appeal cases heard by Chinese courts in 2011, nearly 99% of the litigants accepted the verdict, the papers report.
But Ming Pao Daily News, citing legal experts, casts doubt on this figure. Analysts said the high number of petitions in China showed it did not have a reputable judicial system, the report says.