China media: Development and the congress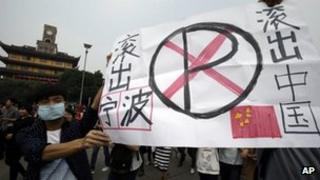 Newspapers continue to report press conferences held on the sidelines of the Communist Party congress in Beijing, where government officials promise to address concerns over the environmental impact of China's economic development.
Environment Minister Zhou Shengxian said the government would increase transparency and public involvement when considering major projects with a potential environmental impact, China Daily and Guangzhou's Southern Metropolis Daily report.
Mr Zhou promised the rising number of mass protests caused by controversial projects would be reduced as risk assessment was enhanced, the reports said.
Other officials also talked about how to maintain a stable society through housing and employment policies.
Housing Minister Jiang Weixin said China would build at least five million units of public housing in 2013, Beijing News reports, while People's Daily says Yang Zhiming, vice-minister of human resources and social security, said the cabinet will "actively and steadily" pursue the plan to allow migrant workers to obtain resident status - or Hukou in Chinese - so that they can enjoy medical care and other social security benefits.
An editorial in Beijing News praised President Hu Jintao's report to the congress for putting development of the economy, politics, culture, society and ecology on equal ground. It said China should step up political reform "in response to people's expectations".
However, citing a sociology professor at Beijing's Tsinghua University, Hong Kong's Ming Pao Daily News said the party's security and propaganda arms posed great barriers to reform.
South China Morning Post says Mr Hu's proposal to let delegates submit their own motions received mixed reaction.
Some party scholars have hailed the development as a significant move towards "intra-party democracy", said the report, but independent analysts see it merely as an effort by Mr Hu to cement his political legacy.
Meanwhile, Hong Kong newspapers continue with their attempts to find out what is happening behind closed doors, as the delegates hold a primary election for new central committee members.
Citing an academic delegate from Heilongjiang province, Ming Pao Daily News and Sing Tao Daily say 19 nominees were eliminated in the primary poll, but the delegate refused to say how many nominees were on the list released by the presidium of the congress. In reality, many of the selections are made ahead of Wednesday's formal election.
Once the congress concludes on Wednesday, the new central committee members will hold their first plenum on Thursday to confirm China's next leadership - the new politburo Standing Committee. Xinhua news agency says the new leadership line-up will be unveiled at 1100 local time.
National newspapers publish more reports calling for the party's members to uphold official lines. People's Daily published an article on the front page saying people should unswervingly pursue the pathway of socialism with Chinese characteristics.
Hong Kong's Beijing-backed Wen Wei Po says senior military leaders have reiterated that the army should unwaveringly follow the absolute leadership by the party, but not the state.
Papers also cover stories of "grass-root representatives" at the congress. The Beijing Times and Shanghai Morning Post publish pictures of two mothers who brought their babies to Beijing for the political gala.
Shanghai Daily publishes a report by the official Xinhua news agency saying a migrant worker delegate wept as he recited a poem of praise that he wrote directed towards Hu Jintao, and hence, was mocked by netizens.
A Global Times Chinese editorial defended the expression of patriotism and loyalty to the party, citing billionaire Liang Wengen as an example.
The founder of Sany Group, China's largest construction machinery maker, he was also mocked by netizens after he told a press conference that he would only want to be born and die in China, and that party membership gave young men a better chance of finding a pretty wife, South China Morning Post and others report.