China media: Choosing the central committee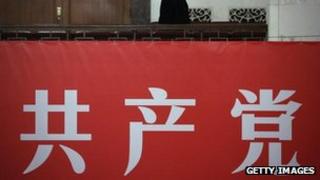 Newspapers report delegates to the Communist Party congress in Beijing spent the weekend putting together the new central committee list.
China Daily and the Global Times say delegates began to "deliberate" on a proposed list of nominees. The list was released to the 38 delegations by the presidium.
Those who are picked will become members and alternate members of the 18th central committee and members of the Central Commission for Discipline Inspection, the reports say.
Hong Kong's Ming Pao Daily News says the process was held behind closed doors on Sunday. A primary election will be held on Monday and the formal election will be held on Wednesday. In reality, many of the selections are made ahead of time.
Meanwhile South China Morning Post, citing unnamed sources in an exclusive report, says President Hu Jintao will "relinquish his position as military chief" at the end of this congress, instead of staying on in the Central Military Commission post for two more years like his predecessor Jiang Zemin.
If Mr Hu is indeed to step down from both party and military posts as the congress concludes, it will mark "the first clean transfer of power the Communist Party has seen in two decades", the paper says.
People's Daily publishes a lengthy article on the front page saying Mr Hu's "scientific development" idea has "opened up a new realm of the 'Chinatisation' of Marxism". Previous reports suggest the "scientific development" idea would become the party's new "guiding principle" in the amended party constitution.
More measures to improve "intra-party democracy" and the party's governance are revealed. The Beijing Times reports the party will allow delegates to submit their own proposals for discussion.
China Youth Daily says the party report has for the first time urged party officials to make policies with a "rule-of-law mindset".
Newspapers also report a few press conferences on the sideline of the party congress. The Global Times leads with comments from propaganda officials saying the party will "continue the [culture] sector's reform by exposing state-owned establishments to market mechanisms to boost their competitiveness".
China Daily says officials also defended China's policies towards imported films, saying the fact that no foreign films were shown during certain periods of the year was "due to business considerations".
Shanghai Morning Post, citing a report from the official Xinhua news agency, says Tian Lipu, director of the State Intellectual Property Office, criticised Western media for bias and ignoring China's anti-piracy effort.
The report says Mr Tian also criticised the US for blocking Chinese firms with "politicised means" when commenting on the row involving Chinese telecommunication equipment firms Huawei and ZTE.
A House Intelligence Committee report said in October Huawei and ZTE posed a security threat to the US, which the two firms deny.