China media: Hu Jintao's congress report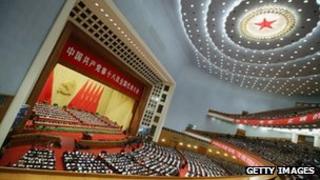 The opening of the Communist Party congress occupies front pages in virtually all China's newspapers.
Many papers publish a collection of reports from the official Xinhua news agency on President Hu Jintao's pledges in the party work report, such as tackling corruption and economic development.
They also publish editorials praising the report, which they said focused on the economy.
A front-page commentary in the People's Daily Overseas Edition says delegates gave multiple rounds of applause, which showed their "firm support" and "strong fighting spirit of tenacious struggle, hard struggle and unremitting struggle".
China Daily's editorial says the message from the report "was loud and clear: the Party will stride ahead, in full confidence, on the path of 'socialism with Chinese characteristics'".
"Consistent with the people-first principle the current leadership put forward, the report lays considerable in-between-the-lines emphasis on fairness. The proposal of a system to guarantee fairness that incorporates equality in rights, opportunities and rules is a positive response to growing public discontent with inequity."
The Global Times' bilingual editorial says: "We can always hear that China is at a political crossroads. This argument is quite appealing. However, it does not coincide with China's current reality."
"The congress report provides the very direction for China's political path. When the direction is too clear to accommodate any speculation, other distractions will lose their potency and public opinion will be more realistic."
Beijing News' editorial says the target to double people's income mentioned in Mr Hu's report would benefit up to 600 million people.
"This will not only be the most solid foundation for sustainable economic growth for our country, but will also become one of the most important forces contributing to global growth."
The Beijing Times' editorial says some local authorities have put too much emphasis on development while ignoring environmental consequences. "Such development is not what people want."
"It is in answer to the demand of the hundreds of millions of people that the report emphasised the importance of building a civilisation of ecology, bringing it to the strategic level that 'it is about people's welfare, about the people's future'."
Amid all the promises Mr Hu made in his report, a commentary in Guangzhou's 21st Century Business Herald says China must solve the problem of an "imbalanced pattern of interests" between government agencies.
"To make a breakthrough, we must rely on various institutional reforms, including an intensified political reform."
'Hong Kong separatism'
In Hong Kong, newspapers focus on the section in which Mr Hu talked about Hong Kong affairs. The papers are concerned Beijing might be misreading the so-called Hong Kong independence debate.
Papers point out that in his report, Mr Hu said Beijing's Hong Kong and Macau policy should focus on protecting China's sovereignty and national security, instead of simply reaffirming the commitment of "one country, two system", which grants Hong Kong and Macau autonomy.
Citing political commentators, Apple Daily says Mr Hu's comment was obviously directed at the issue of "Hong Kong separatism". It also served as an indirect criticism of people who opposed the Chinese patriotic classes, the paper said.
The editorial in Ming Pao Daily News says some opinion leaders have fabricated the issue, saying Chief Executive CY Leung should take responsibility for reflecting the actual situation in Hong Kong to Beijing authorities.
However, the editorial does not believe Beijing would implement any intense measures against Hong Kong for the time being.
A commentary in the Hong Kong Economic Journal says a few demonstrators waving the colonial-era British Hong Kong flag does not imply an actual independence movement in action.