China morning round-up: Two leaderships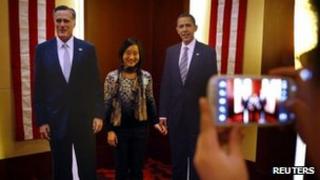 Leadership issues in two global giants dominate newspapers, which run extensive coverage of both the Chinese party congress and the US presidential election.
China Daily and Beijing News report all delegates have reached Beijing for the Communist Party congress. The reports say the congress will see the first group of 26 migrant worker representatives attending, which marks an expansion of "grassroots democracy".
Guangzhou's Southern Metropolis Daily and Chengdu's West China City Daily publish an article from the official Xinhua news agency saying the party congress, which is due to open on Thursday, will plan for "deep water reforms", without elaborating.
The Global Times publishes its own poll saying most people believe China should initiate political reform at a gradual pace.
Meanwhile, the Global Times and some other papers lead with the US presidential election as results begin to emerge. Regional papers such as Beijing News also carry extensive coverage of voting.
The Global Times' bilingual editorial compares the US election with China's political system.
"The electoral system encourages populism. Parties and politicians are slowly turned into its captives," it says.
"Viewed from the literal meaning of the phrase 'civil rights', this evolution in the political system is correct. The outcome of carrying civil rights to their extreme is to maximise everyone's benefits."
"The concepts of effort and hard work will become outdated. The overall progress of the country has become an issue of secondary importance."
A front-page commentary in the People's Daily Overseas Edition also renews Chinese leaders' call for developing democracy "with Chinese character".
The commentary says: "Many developing countries have been exploring how to achieve democracy. Some of them became "guinea pigs" of Western democratic systems - may it be active or passive - and the results were political unrest, economic stagnation and widespread poverty."
Also on Wednesday, People's Daily reports Premier Wen Jiabao has returned to Beijing after attending the Asia-Europe summit in Laos.
Shanghai Morning Post and Wen Wei Po say Foreign Minister Yang Jiechi angrily rebuked Japanese Prime Minister Yoshihiko Noda's "quibbling" on the East China Sea islands dispute at the summit.
Shanghai Daily and the Beijing Times report the verdict in the Mekong River murder trial in Kunming. Naw Kham and the other five defendants had appealed, reports said.
The Global Times' second bilingual editorial hailed the significance of this trial.
It says: "Punishing perpetrators is an important part of protecting Chinese interests. If the punishment requires overseas action, it will need the strong support provided by China's national power. This is a tacit rule of international relationships."
Shanghai Daily and Shanghai Morning Post say white collar workers in the financial hub panicked after Microsoft announced it intended to "retire" the Windows Live Messenger service and replace it with Skype's messaging tool.
The company said its instant message chat tool would be turned off by March 2013 worldwide, with the exception of China.