Profile: Wen Jiabao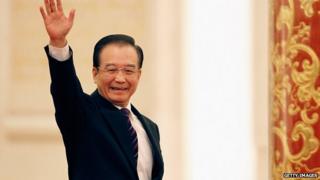 As China's once-in-a-decade leadership change draws to a close, the BBC's Celia Hatton in Beijing profiles Wen Jiabao, premier for the last decade.
Wen Jiabao became premier, responsible for the country's domestic and economic policies, in 2002. He has now handed power to his successor, Li Keqiang.
Mr Wen was credited with engineering China's steady economic growth during his time in office.
Some critics maintain Mr Wen failed to encourage sustainable growth by investing in "white elephant" stimulus projects that would not boost long-term domestic consumption.
Still, the Chinese economy enjoyed relative stability following the 2008 global economic downturn, despite declining exports.
Alongside China's President Hu Jintao, Mr Wen consistently called for balanced economic growth that benefits all sectors of Chinese society.
Some of his major policy initiatives attempted to build an ambitious society security net for China's poorest people, including access to affordable education and healthcare.
However, the complexity of such programmes led to mixed results in their implementation.
The friendly face
Unlike other Communist leaders, notably Hu Jintao, Wen Jiabao has not shied away from media.
Notably, he has fielded questions on sensitive issues such as political corruption during annual press conferences marking the conclusion of China's yearly parliament sessions.
Mr Wen has spoken in support of political reform in China on several occasions. In a 2010 interview with CNN, he expressed support for democratic reform in China, pledging his desire for change "will not fall in spite of a strong wind and harsh rain, and I will not yield till the last day of my life".
That interview was subsequently censored inside China.
Referred to as "Grandpa Wen", Wen Jiabao was often the first Communist leader on the scene when China was hit by natural disasters. Notably, Mr Wen was pictured comforting survivors during 2008's deadly earthquake in Sichuan province.
But his public image as a compassionate man of the people was damaged when a New York Times investigative report found that his relatives had attained assets worth $2.7bn (£1.7bn) while he was in power.
Mr Wen said the report was not factual and pledged to allow independent investigators to audit his finances.
The survivor
The New York Times incident is not the first time Mr Wen has faced setbacks. In a political career stretching back to 1965, he has built a network of patrons and is known as a survivor.
Mr Wen began his career in the Gansu geology bureau, having studied geomechanics in Beijing.
The party was at that time conducting a talent search, and Mr Wen was duly promoted to serve as deputy in the party's Central Office, where he remained for eight years.
He has served three party leaders - from Hu Yaobang to Zhao Ziyang to Jiang Zemin.
Perhaps his most significant recovery was after 1989, when Mr Wen accompanied then-Party Secretary Zhao Ziyang to Tiananmen Square to visit the students on hunger strike.
Mr Zhao was purged from the party days later and lived under house arrest in Beijing until his death in 2005.
Mr Wen, on the other hand, is thought to have weathered the storm by supporting Deng Xiaoping's decision to impose martial law.