Beijing ramps up security ahead of Party congress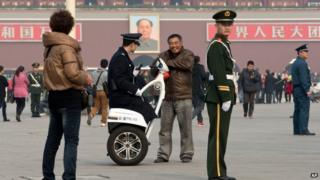 With two days to go until China's once-in-a-decade leadership changes gets under way at a congress in Beijing, the BBC's Beijing bureau reports on how security has been ramped up across the city.
Liu Xiaoyuan once worked as a Communist Party official in China's south-eastern Jiangxi province. He is also one of the party's 82 million members.
However Mr Liu's newfound career as an outspoken human rights lawyer has made him unwelcome in China's capital, Beijing, this month.
He has been instructed to stay away from his law practice when the next generation of leaders take power during the Communist Party congress on 8 November.
While he was visiting his hometown of Jian in Jiangxi in October, local police went to Mr Liu's family home and told him to stay there while congress was in session.
To be doubly sure that he followed orders, Mr Liu received phone calls from senior security officials in Beijing with the same warning.
"They said they would know if I tried to go [to Beijing]," he said in a phone interview.
"They said I would be barred from purchasing a plane or a train ticket because of China's real name purchasing system. The government will always know where I am."
Beginning from September, many others are under similar pressures.
Those who pose a political threat to the Communist Party have been barred from Beijing, including HIV campaigner Hu Jia, who has been sent to stay in central Anhui province, and outspoken blogger Li Huaping, who reportedly disappeared into police custody in Shanghai on 25 October.
'Ridiculous'
Over 130 political dissidents have been unlawfully detained or placed under house arrest, according to rights group Amnesty International. Other rights groups say the numbers are far higher.
"This is really ridiculous," Mr Liu said, with a hint of anger in his voice.
"The sector of the government that's in charge of maintaining stability is actually creating tension. The central government isn't making up these rules - it's the lower levels of the Public Security Bureau. They always fear things will go wrong."
Beijing's security forces appear to be doing anything they can to ensure nothing will mar the debut of the new leadership.
Unsmiling security officials are stationed at street corners and bridges, while retirees wearing red armbands patrol their neighbourhoods for signs of trouble.
At least 1.4 million volunteers have signed on to work throughout the congress - the same number of people who served the city during the 2008 Beijing Olympics.
Fire safety officials have inspected every congress venue from top to bottom. The police also purchased a new helicopter to monitor the city's airspace. Extra ambulances and paramedics are on duty across Beijing.
No birds
Additional security measures border on the absurd. The city's 60,000 taxi drivers have been ordered to prevent passengers from rolling down their backseat windows in an attempt to stop the distribution of anti-Communist literature.
"In the past, some passengers had thrown leaflets out the taxi window or inserted leaflets into ping-pong balls and threw them out or would let go of a balloon which had leaflets tied to it," says China's state-run Global Times newspaper.
Almost anything that can take flight has fallen under an umbrella of suspicion. Homing pigeons have been confined to their roosts. Remote-controlled toy airplanes cannot be purchased without first showing ID.
Even street food vendors have been deemed a security - or an aesthetic - threat. On a sidewalk just a few kilometres from the Great Hall of the People where the congress will take place, a weathered man selling baked potatoes from the back of his bicycle said he had been ordered to shut down his business until the Party congress was over.
"They say that street vendors damage the beauty of the city," he said.
For a few weeks, he will forego his earnings of 100 yuan ($16, £10) a day and stay close to home. The man refused to disclose his name, for fear of reprisals.
"I'll listen to the government," he said, with a sigh. "I'll lose a lot of money, but I have no choice at all.