China morning round-up: Reporting the party congress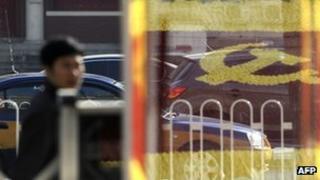 Newspapers say the number of international journalists covering the Communist Party congress "has seen a remarkable increase", as preparations gear up ahead of the 8 November meeting.
China Daily, Shanghai Morning Post and others say an official number is yet to be released, as applications do not close until Friday night.
"It shows the huge attention of the international community to the congress," China Daily quoted Zhai Huisheng, a party official from the government-sanctioned All-China Journalists' Association - which oversees the operation of the congress press centre, as saying.
The official press centre opened its doors to journalists on Thursday. An official website has been launched, but the agenda and schedule of the congress are absent.
Hong Kong's Ming Pao Daily News says the press centre is displaying photos from previous congresses, including those showing late reformist leader Zhao Ziyang.
Mr Zhao was put under house arrest after the 1989 Tiananmen crackdown after he expressed sympathy for the protesting students. Ming Pao says the appearance of his picture at an official event is rare.
There are more reports of increased security in Beijing. The Global Times says people who enter Tiananmen Square are now subject to security and paper checks.
Ming Pao Daily News says at Jinxi Hotel, where the party's central committee plenum is in progress, hundreds of police, paramilitary police and security volunteers are keeping close eye on passers-by.
And on top of locking windows of taxis in the city, Hong Kong's South China Morning Post says taxi drivers have also been told to "require passengers to sign a 'travelling agreement' promising to avoid sensitive parts of the city and not to open their windows or doors if they pass 'important venues'".
Meanwhile, the Beijing-backed Wen Wei Po says experts in Beijing are urging reforms in the party that focus on social equality.
The Global Times' bilingual editorial says: "There has been a flood of media coverage about China's reforms of late. This reflects the determination of Chinese society."
"After 30 years of practice, the notion of reform is much wider than originally anticipated."
Also on Friday, papers such as People's Daily Overseas Edition, Shanghai Daily and Shanghai's China Business News comment on the latest manufacturing data, saying the data show signs of recovery.
China Daily and the Global Times report the Commerce Ministry launched an anti-dumping and anti-subsidy investigation into EU-made polysilicon products - a material used for making solar panels.
Reports say the investigation is in response to an EU probe into Chinese solar panels back in September.
Shanghai Daily and Ming Pao Daily News report Shenzhen passed local legislation that outlaws the practice of giving birth to a second child outside mainland China. Couples could face penalties for the practice, which is deemed to violate China's birth-control policy.
The Global Times reports the local government in Tibet announced on Thursday that all local residents and clergy will be offered free life and accident insurance as part of a social security programme.
The programme will give a death and injury benefit of up to 50,000 yuan ($8,000; £5,000), said the report.