China launches Bo Xilai criminal investigation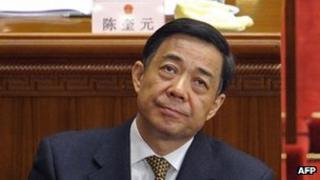 Chinese prosecutors have launched a criminal investigation into disgraced politician Bo Xilai, state news agency Xinhua reports.
The former Chongqing mayor was earlier expelled from parliament, stripping him of immunity from prosecution.
According to state media, Mr Bo is accused of abuse of power, bribe-taking and violating party discipline.
His wife, Gu Kailai, was jailed in August for the murder of British businessman Neil Heywood.
Xinhua carried a statement saying that the Supreme People's Procuratorate had "decided to put Bo Xilai under investigation for alleged criminal offences, as well as impose coercive measures on him in accordance with the law".
Mr Bo had formerly been seen as a rising star within the Communist Party, which is due to meet on 8 November for a Congress at which the new top leaders will be unveiled.
Political scandal
His former deputy, police chief Wang Lijun, has also been jailed in connection with the scandal, which came as China prepared for its 10-yearly power transition.
Chinese officials announced that Mr Bo would be stripped of his last official post, as a deputy in the National People's Congress, on Friday morning.
When he was expelled from the party itself last month, a statement said his "suspected law violations" would be handed over to "judicial organs".
The announcement of an official criminal investigation is the first step in that process.
Mr Bo has not been seen in public since the investigation into him and his family was announced.
On Thursday the Washington Post, citing two people close to his wife's family, said his relatives had been warned not to hire lawyers for him.
The investigation into Bo Xilai was triggered when Wang Lijun fled to the US consulate in Chongqing and implicated Mr Bo's wife, Gu Kailai, in the death of Mr Heywood, a British businessman.
She was subsequently given a suspended death sentence for his murder after a one-day trial. Mr Wang has been jailed for 15 years on a number of charges.
Mr Bo had been seen as a leading candidate for a position in the party's top decision-making body - the Standing Committee of the politburo - in the leadership change set for next month.
A charismatic politician, his populist policies, crackdown on crime and promotion of "red" culture - harking back to the Mao Zedong era - brought him supporters.
His downfall was seen as exposing divisions between more reformist and more left-leaning groupings among China's leadership.