China morning round-up: Military reshuffle confirmed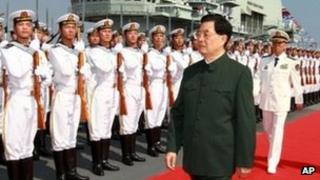 Newspapers report the military's confirmation of a major personnel reshuffle ahead of the Communist Party congress.
China Daily, the Global Times and Guangzhou's Southern Metropolis Daily lead with the nominations, which see Gen Fang Fenghui becoming the new chief of general staff, Gen Zhang Yang becoming director of the General Political Department, Gen Zhao Keshi the new director of the General Logistics Department and Gen Zhang Youxia heading the General Armaments Department.
The announcement confirms reports from earlier this week saying the reshuffle had taken place.
Hong Kong's South China Morning Post says the reshuffle "shows a fine balance of power" between President Hu Jintao, Vice-President Xi Jinping and former President Jiang Zemin - China's "three most powerful men".
The four top military officials are almost certain to become members of the Central Military Commission after the party congress, it said.
An editorial in the Global Times Chinese edition says: "The reshuffle of military personnel makes people believe in the country's earnest intention to strengthen the combat ability of the armed forces. The attention from outside reflects their equally earnest intention to try to figure out China."
Meanwhile, the Beijing Times reports the Defence Ministry warned Japan against "creating aerial and maritime incidents" by carrying out surveillance of Chinese vessels amid the East China Sea islands dispute.
People's Daily reports the announcement by Tokyo's outspoken governor Shintaro Ishihara that he will form a new national political party. It says Japan's right-wing activists are attempting to "provoke [a stand-off against] the peace-time constitution".
A front-page commentary in the People's Daily Overseas Edition says the islands dispute will eventually wear Japan down economically.
China Daily and Shanghai Daily report the public outcry over the abuse of children at kindergartens in Zhejiang province.
Beijing News' editorial calls for the criminalisation of child abuse by non-family members. A commentary in Southern Metropolis Daily says current legislation banning corporal punishment in schools has not been implemented and needs to be improved.
China Daily also says railway stations across the country have tightened security checks on baggage ahead of the 8 November party congress.
The Railway Ministry and the Public Security Ministry said items like fruit knives, scissors, hammers and axes must be checked in before boarding, said the report.
People's Daily reports China has finished the formation of a regional network for its Beidou navigation system after the launch of another satellite late on Thursday.
The Beidou system is China's own navigation and positioning satellite network that rivals the US Global Positioning System (GPS).