China morning round-up: Politburo meeting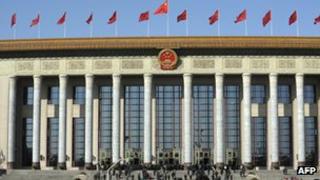 Newspapers report the latest meeting of the Politburo, where a proposal to amend the Communist Party constitution was discussed.
People's Daily, China Daily and many others publish a report by the official Xinhua news agency of the meeting chaired by President Hu Jintao, in his capacity as the party's general secretary.
The Xinhua report did not specify how the constitution is to be amended.
The meeting also discussed a draft report to the party congress, which begins on 8 November.
Regional and local papers like the Beijing Times and Guangzhou's Southern Metropolis Daily also carry the Xinhua report, while highlighting in their headlines that some "important theories" set out in the report will be written into the party constitution.
Hong Kong's South China Morning Post says: "While highlighting several guiding tenets of party doctrines by President Hu Jintao, Jiang Zemin and Deng Xiaoping, one key term missing from the Xinhua report was 'Mao Zedong thought', an absence that led some China watchers to wonder whether the party might be moving to play down the philosophy of its late patriarch in the 18th national party congress."
The Global Times' bilingual editorial says: "The 18th National Congress of CPC is being held to showcase China's potential and problems to the entire Party and the people, as well as conduct a frank discussion with the world."
"The world has a lot of questions for China and the Chinese people also have issues with the domestic situation. The 18th National Congress needs to reply to all these questions."
Tuesday marks the Double Ninth Festival in the Chinese Lunar calendar, which has also been marked as the Seniors' Day in China since 1989.
China Daily and People's Daily Overseas Edition look at the challenges of dealing with an aging population.
Southern Metropolis Daily's report highlights a serious lack of nursing services, as official statistics show that 50 pensioners on average are competing for one nursing home bed.
Beijing News' editorial calls for measures "to relieve pressure" on the younger generations, so that they can fulfil their traditional responsibility of filial piety - to care for their aging parents.
A front-page commentary in People's Daily Overseas Edition says in view of some recent incidents where parents have reportedly been abused by their children, the government should not only promote filial piety but implement tough administrative measures to ensure it takes place.
Also on Tuesday China Daily says "Mo-mania" is sweeping across the country after writer Mo Yan won the Nobel prize for literature, raising concern that the copyright status of his work is not clear enough.