Q&A: China's new leaders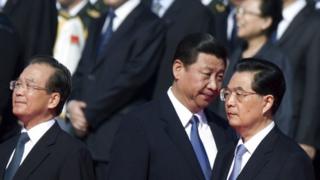 China's ruling Communist Party is about to hold an important congress and usher in sweeping leadership changes which could have a profound impact on the country's future direction.
With China now the world's second largest economy and an increasingly important global player, the changes will be closely watched around the world.
What are the main issues at this year's meeting?
What is the party congress?
The congress is held every five years and is a platform to announce party policies and personnel changes in the party leadership.
More than 2,200 delegates from across China will gather in Beijing for the congress, which opens on 8 November.
The congress will be a well-choreographed display of power and unity, but the proceedings will mostly take place behind closed doors.
Most, if not all, of the outcomes will have been settled among top leaders before the congress gets under way.
It is not clear how long the meeting will go on for. But recent congresses have typically lasted seven days.
Why is it important?
This year's congress is particularly important because it will endorse a once-in-a-decade leadership succession.
The party sets strict age limits for its leaders and seven out of the nine current members of the all-powerful Politburo Standing Committee - the party's ruling body - are expected to step down. They include President Hu Jintao, who is head of the party and China's head of state, and Premier Wen Jiabao, who is like a prime minister in charge of the government.
Immediately after the Congress ends, a new leadership will be unveiled to waiting journalists, and walk out in order of seniority.
The new leadership, the make-up of which has been determined in advance, will rule China for the next 10 years.
Who will China's new leaders be?
Vice-President Xi Jinping is expected to replace Hu Jintao as the party's general secretary after the congress, and become state president early next year.
He is one of the select group of "princelings" - top party officials who are descended from former party grandees.
Vice-Premier Li Keqiang, a close ally of Mr Hu, is tipped to replace Wen Jiabao as premier.
There has been a lot of speculation as to who the other Politburo Standing Committee members will be, and its final line-up will be closely watched for hints as to China's future direction.
It has been widely reported that the Standing Committee will shrink from nine members to seven, in an effort to streamline decision-making.
How are new leaders selected?
In theory, the party congress elects members of the Central Committee, who in turn elect the politburo, including its Standing Committee, China's top decision-making body.
But in practice, the process has always been top-down rather than bottom-up, and the congress is really a rubber stamp for top leaders' decisions.
Under Mao Zedong and Deng Xiaoping, the paramount leaders named their own successors.
Now that the era of political strongmen is over, the selection of new leaders has become a murky process of intrigue and horse trading among various party factions and interest groups.
Though Li Keqiang was believed to be Hu Jintao's favourite candidate, Xi Jinping emerged on top because he was acceptable to all party factions.
What difference will the new leaders make?
Advocates of reform are calling on the new leadership to carry out urgent reforms to prevent economic and social problems from evolving into a crisis that could loosen the Communist Party's grip on power.
In particular, they warn that, without incremental political reform, the unchecked powers of the state risk suffocating growth and exacerbating popular discontent.
It was recently reported that Mr Xi, the leader-in-waiting, hinted that he has heard the calls for him to take a bolder path.
But any more daring reform could face opposition from powerful interest groups, including party factions that chose the new leaders in the first place.
What happens to leaders who retire?
Retired Chinese leaders often continue to wield great influence from behind the scenes.
After Jiang Zemin stepped down as party leader in 2002, he remained as head of the Central Military Commission for two years, setting a precedent some say Hu Jintao may now seek to repeat.
Even party elders without official posts can stay active, especially in the lead-up to leadership successions.
Both Jiang and his rival Li Ruihuan, a former leader close to Hu Jintao, have reportedly made public appearances in a bid to boost their own factions.
With party elders still holding sway, new leaders can be quite constrained when they first take office.
Do we really know what's happening, or is it educated guesswork?
China started opening to the world in 1978, and observers now know vastly more about its people and society than ever before.
But China's political system remains opaque and secretive.
For example, just weeks before the congress, Xi Jinping was not heard from for two weeks, sparking a flurry of online rumours which Beijing's official silence only served to fan.
One insight we will get into the party's latest thinking will be Hu Jintao's much-anticipated "political report", to be delivered on 8 November.
Chinese political speeches are usually full of jargon and hard to decipher. But observers will pore over the report for new watchwords which may serve as indicators of China's future direction.
BBC Monitoring reports and analyses news from TV, radio, web and print media around the world. For more reports from BBC Monitoring, click here