China morning round-up: Ghana and Sichuan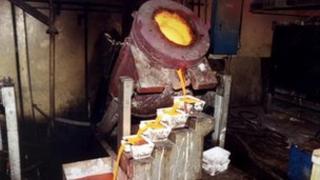 Newspapers in China report a crackdown in Ghana against illegal gold mining that ended in bloodshed.
China Daily, People's Daily and Guangzhou's Southern Metropolis Daily are among those that report China's protest to Ghana over the death of a Chinese citizen during the crackdown.
Reports say the man, surnamed Chen, was killed on 11 October by military police in the Ashanti region of Ghana. The Chinese embassy in Accra said 100 or more other Chinese nationals had been detained recently on suspicion of illegal mining.
The Ghanaian government has ordered an investigation after China's protest, reports say. Chris Kpodo, Ghana's deputy foreign minister, said he had met Chinese Ambassador Gong Jianzhong and would grant him access to the detainees.
Back home, the Global Times, Chengdu's West China City Daily and Shanghai Morning Post report a hostage crisis in Sichuan province.
Citing local police, reports say the hostage-taker was shot dead by a sniper on Sunday on a highway in Cangxi county after a 12-hour stand-off.
The gunman, named by the police as Zhang Fuming, held a woman hostage with a gun, and opened fire on passers-by. Police said he was a drug addict and had demanded drugs during negotiations.
The Global Times described the incident as "a rare outburst of gun violence that shocked the nation".
China Daily, the Global Times and Beijing News also report an accident in eastern Hangzhou city, where a firework display held at the city's famed West Lake on Saturday night injured 151 onlookers after some fireworks misfired and landed among them.
The municipal government, which organised the show, apologised to the public and promised compensation, said the reports.
Beijing News' editorial asks if the city had planned the event well in terms of public safety, amid the presence of 1.14 million visitors.
The Global Times and Hong Kong's Ming Pao Daily News report a 30,000-word-long novel written by Nobel Prize for literature laureate Mo Yan has become the latest entry in the reading list for China's high school students.
Transparent Carrot, first released in 1985, is a story about Mo Yan's "difficult and lonely youth", said the reports.
Shanghai's China Business News and Guangzhou's 21st Century Business Herald take a look at the commercial benefit brought by Mo's Nobel victory.
China Business News says publishers have received orders worth 60m yuan ($9.57m; £5.96m) to reprint a collection of his 16 novels within three days of the announcement, "and it's just the beginning".
The 21st Century Business Herald says Mo's Nobel prize could generate up to 700m yuan of revenue through reprints of his work.
A People's Daily commentary says: "A country's prosperity is proportional to the influence of its spiritual products. Chinese literature has put a firm footprint on the globe."