Tibet man dies in self-immolation in China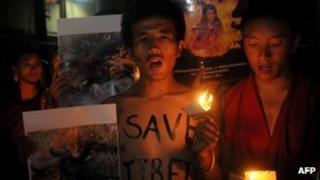 An ethnic Tibetan man has died after setting himself on fire in protest at Chinese rule over his homeland, Tibetan rights campaigners say.
Tamdrin Dorjee killed himself near the Tsoe monastery in China's north-west Gansu province.
Tibet campaigners said an increased military presence was reported to have been deployed around the monastery.
More than 50 ethnic Tibetans have set themselves on fire since such protests began in 2009.
The majority of them are believed to have died in the self-immolations.
Earlier this month, another Tibetan - 27 year-old Sangay Gyatso - set himself on fire in the same region.
Tamdrin Dorjee has been identified as the grandfather of the seventh Gungthang Rinpoche, who Tibetan Buddhists believe is the reincarnation of an important religious figure.
Kate Saunders from the International Campaign for Tibet told the BBC that monks from the Tsoe monastery and local people were attending a prayer service for him.
She said they had received reports that security deployments had been stepped up in the region and transportation has been shut down in the city of Tsoe - considered by Tibetans to be in north-eastern Tibet - for several hours.
China's leaders blame the Dalai Lama, the Tibetans' exiled spiritual leader, for inciting the self-immolations and encouraging separatism.
He rejects this, and both activist groups and the Tibetan government-in-exile say the self-immolations are protests against tight Chinese control of the region and religious repression.