China morning round-up: Nobel Literature Prize to China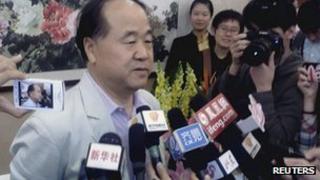 Newspapers run extensive coverage of the awarding of the Nobel Prize for literature to Chinese author Mo Yan.
National China Daily and People's Daily Overseas Edition report the news on the front page.
A commentary in the domestic edition of People's Daily says: "A literature prize that has so much tradition and international influence made him a global focus. One can imagine how excited he is. Congratulations, Mo Yan!"
Regional papers such as Guangzhou's Southern Metropolis Daily have multi-page reports. It says state broadcaster China Central Television (CCTV) reported the announcement as breaking news in its 1900 news bulletin, which is extremely rare treatment.
However, Shanghai Morning Post's editorial and a commentary in Beijing News ask the public not to be over-excited. The commentaries said people should work on enhancing Chinese literature.
Most newspapers in Hong Kong also lead with the victory, but tackle controversies too.
Sing Tao Daily reports independent writers said it was ironic to hand Mo the Nobel Prize given he is the deputy chairman of the government-sanctioned Chinese Writers' Association, which is seen as an institution that helps Beijing suppress freedom of speech.
South China Morning Post says: "[Critics] saw the decision to award Mo Yan a surprising departure from the prize committee's tradition of honouring writers who epitomise free will and idealism, as well as humanism."
Ming Pao Daily News says the Chinese Writers' Association reprimanded the Nobel committee for becoming a political tool after exiled dissident writer Gao Xingjian was honoured with the literature prize in 2000, but it congratulated Mo after Thursday's announcement in a high-profile manner.
Prof David Parker of the Chinese University of Hong Kong told Ming Pao the Nobel Prize judges might want to demonstrate an image of political neutrality, as well as to "compensate" China for awarding the Nobel Peace Prize to jailed dissident writer Liu Xiaobo in 2010.
The Global Times' bilingual editorial says: "Previously, Peace prizes for the Dalai Lama and Liu Xiaobo conveyed very unfriendly and even hostile messages."
"Gao Xingjian, a Chinese-born French citizen, was awarded the Nobel Prize in Literature in 2000. Chinese people generally believed that Gao was awarded this prize because of the political leanings in his literary works."
"[Mo Yan's] win will amend Chinese people's attitudes toward the Nobel Prize. However, a sense of trust toward the prize will not be established anytime soon in Chinese mainstream society."
Editorials in the Beijing Times and Southern Metropolis Daily discuss a decree issued by the cabinet this week scrapping hundreds of business regulations.
The decree said the government should pull out from matters that can be self-regulated by trade guilds and market mechanism, said the editorials. Southern Metropolis Daily says this decree could be a game-changer.
China Daily and People's Daily report Beijing's condemnation of the US decision to raise tariffs on solar cells imported from China. A front-page commentary in People's Daily Overseas Edition warns the US against "hurting itself" by China-bashing.
Meanwhile, The Global Times and China Daily say Vice-Premier Li Keqiang urged Germany to push the European Union "not to target China's solar panel industry in trade protectionism" during his meeting with visiting German Foreign Minister Guido Westerwelle.
China Daily and Beijing News report family members of a Japanese car owner who was attacked during an anti-Japan protest in northwest Xian city are suing local police for compensation, accusing the police of dereliction of duty.
Toyota Corolla owner Li Jianli was hit on 15 September by a protester with a U-shaped steering-wheel lock, causing him severe brain injury. The incident sparked a national outcry.